ENZIM AMILASE SEBAGAI KOMPONEN ANTAGONIS BACILLUS SUBTILIS B315 TERHADAP RALSTONIA SOLANACEARUM KENTANG
Keywords:
amylase, Bacillus subtilis B315, Ralstonia solanacearum
Abstract
Enzyme amylase as an antagonist component of Bacillus subtilis B315 against potato Ralstonia solanacearum. One of the antagonist mechanism of Bacillus subtilis B315 is that it produced secundary metabolites. Enzyme amylase is produced by B. subtilis B315 as a secondary metabolite. The aims of the research were: (1) to test mechanism of antagonistics by B. subtilis B315 against potato Ralstonia solanacearum and (2) to detect antibiosis activity of B. subtilis B315. The research was conducted in the Laboratory of Plant Protection Agriculture Faculty and Laboratory of Integrated Research of Jenderal Soedirman University from April to October 2014. The research method is an experimental with growing double layer of B. subtilis B315 in YPGA medium and Ralstonia solanacearum in water agar. This research used a Completely Randomized Design with 3 treatments and 8 replications. The treatments were B. subtilis B1, B. subtilis B46 and B. subtilis B315. The activity of antibiosis was tested by amylase activity enzyme and than it was analyzed using FTIR (Fourier Transform-infra Red). Result of the research showed that B. subtilis B315 could suppress R. solanacearum growth with 14 mm inhibition zone. Antibiosis activity of B. subtilisB315 as biological agents was showed by the production of amylase enzyme by activity of 0,802 unit/ml. Analysis by FTIR was showed by the production of compound group of alkane, aldehyde, ketones, carboxylic acid, esther, amina, and amida.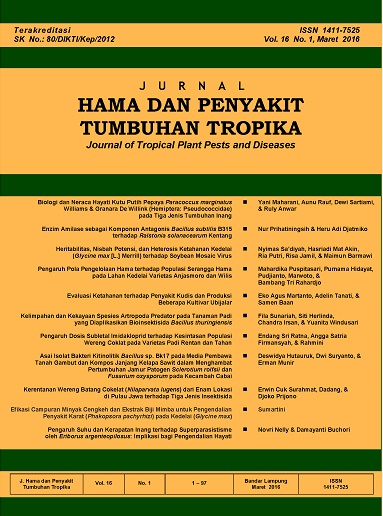 Downloads
License
Jurnal Hama dan Penyakit Tropika (JHPT Tropika) is licensed under a 
Creative Commons Attribution-NonCommercial 4.0 International License
.

Read Counter : 1146 times

PDF Download : 1966 times