POLA AKTIVITAS HARIAN DAN DINAMIKA POPULASI LALAT BUAH BACTROCERA DORSALIS COMPLEX PADA PERTANAMAN JERUK DI DATARAN TINGGI KABUPATEN KARO PROVINSI SUMATERA UTARA
Keywords:
fruit fly Bactrocera dorsalis complex, daily activity pattern, population dynamic
Abstract
The fruit fly Bactrocera dorsalis complex is important pest on citrus plantation at highland Karo district North Sumatera Province. The studies with the aim to find out its daily activity pattern and population dynamic on citrus plantation have been done. Fruit flies were collected by water bottle trap with methyl eugenol attractant. Sampling for daily activity pattern was done per two hours for two months (April to May 2011) from 06.00 a.m until 18.00 p.m. Meanwhile, population dynamic study was conducted on two citrus plantations per four days for nine months (March to November 2011) in the first and third week of each month. The research result showed that B.dorsalis complex was more active during morning at 10.00 to 12.00 a.m. The peak abundance of fruit fly occurred at the end of June until beginning of July. The peak population coincided with the ripening period of fruits, low number of rainy (d) and rainfall (mm) in June and July periods. There was a significant correlation between number of rainy day and rainfall with fruit flies caught per month (R = 0.79; Y = 289.34+14.23X1-15.93X2; R2 = 0.62; P < 0.05). The pattern of fruit fly fluctuation in two citrus plantations was similar (rs = 0.47; P < 0.05).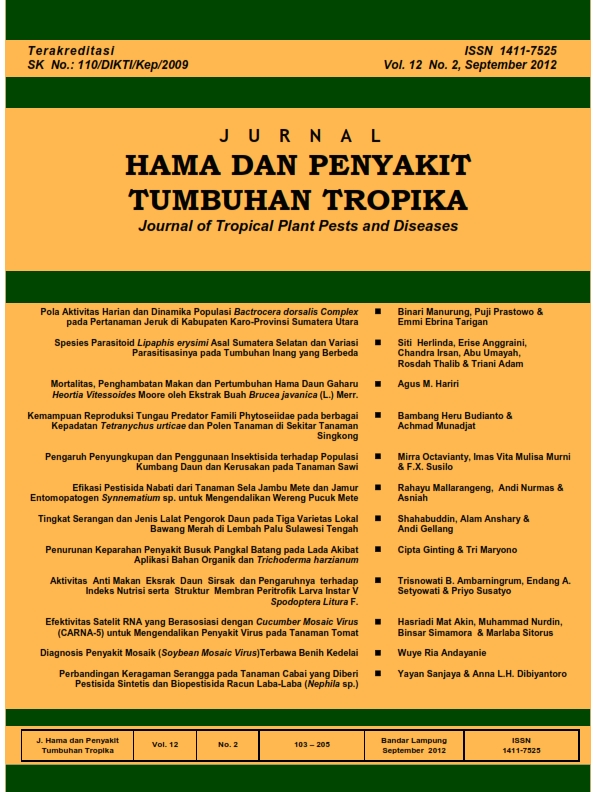 Downloads
License
Jurnal Hama dan Penyakit Tropika (JHPT Tropika) is licensed under a 
Creative Commons Attribution-NonCommercial 4.0 International License
.

Read Counter : 1116 times

PDF Download : 502 times