EXPLORATION AND SELECTION OF RHIZOBACTERIA THAT INHIBIT PHYTOPHTHORA CAPSICI IN VITRO
Keywords:
dual culture, inhibition, phytophthora blight
Abstract
Exploration and Selection of Rhizobacteria that Inhibit Phytophthora capsici in vitro. Phytophthora capsici, a seed borne and the soil borne fungal pathogen is the cause of phytophthora blight on chili. The disease is difficult to control because of the resistant varieties unavailability in Indonesia. The aimed was to obtain isolates of rhizobacteria which has the ability to inhibit P. capsici in vitro. Rhizobacteria exploration was conducted in the chili production center in East Java (Malang, Batu, and Kediri) and West Java (Bogor). In one location, chili plant that had symptoms of phytophthora blight disease and a healthy plant next to it were chosen as samples to isolate P. capsici and the rhizobacteria. The rhizobacteria were isolated on NA, TSA, and TSAP (TSA with heated sample). Samples of diseased plants were used in isolation of P. capsici on V8 agar. The inhibition and compatibility of the rhizobacteria to inhibit P. capsici in vitro were tested by dual culture method. In this experiment, it was obtained 252 isolates of rhizobacteria and one isolate of P. capsici. Isolates of rhizobacteria with high to medium inhibition were E1, E3C2, and F2B1 respectively. All three isolates were then combined and tested against P. capsici in vitro. The highest inhibition was indicated by four isolate and combination of isolates, which were E1 isolate (58%), the combination of E1 + E3C2 isolates (58%), E1 + F2B1 (60%) and E1 + E3C2 + F2B1 (58 %).
References
Agarwal VK & Sinclair JB. 1997. Principle of Seed Pathology. Second edition. CRC Press Inc, Boca Raton Florida.
Aminullah, Rachmadiarti F & Trimulyono G. 2015. Isolasi dan karakterisasi rhizobakteri pada akar Rhizopora mucronata yang terpapar logam berat timbal (Pb). LenteraBio 4 (1): 43-49.
Aravind R, Kumar A, Eapen SJ & Ramana KV. 2008. Endophytic bacterial flora in root and stem tissues of black pepper (Piper nigrum L.) genotype: isolation, identification and evaluation against Phytophthora capsici. Applied Microbiology 48: 58-64.
Babadoost M. 2004. Phytophthora blight: a serious threat to cucurbit industries. APSnet Feature. The American Phytopathological Society: 1-12.
Bai Y, Pan B, Charles TC & Smith DL. 2002. Co-inoculation dose and root zone temperature for plant growth promoting rhizobacteria on soybean (Glycine max (L.) Merr) grown in soil-less media. Soil Biol Biochem. 34:1953-1957.
Babalola OO. 2010. Beneficial bacteria of agricultural importance. Biotechnol Lett 32: 1559-1570.
[BBPPSLP] Balai Besar Penelitian dan Pengembangan Sumberdaya Lahan Pertanian. 2007. Metode Analisis Biologi Tanah. Saraswati R, Hesen E, Simanungkalit RDM. Editor. Balai Besar Penelitian dan Pengembangan Sumberdaya Lahan Pertanian. Badan Penelitian dan Pengembangan Pertanian. Departemen pertanian 2007.
Chaerani, Koerniati S & Manohara D. 2013.Analisis keragaman genetik Phytophthora capsici Leonian asal lada (Piper nigrum L.) menggunakan penanda molekuler. J. Littri 19 (1): 23-32.
Fredrickson G & Stephanopoulos G. 1981. Microbial Competition. Science. 213: 972-979.
Hausbeck MK & Lamour KH. 2004. Phytophthora capsici on vegetable crops: research progress and management challenges. Plant Diseases 88(12):1292-1303.
Ibrahim A, Ilyas S & Manohara D. 2014. Perlakuan benih cabai (Capsicum annuum L.) dengan rizobakteri untuk mengendalikan Phytophthora capsici, meningkatkan vigor benih dan pertumbuhan tanaman. Bul Agrohorti. 2(1):22-30.
Khan AA, Jilani G, Akhtar MS, Naqvi SMS & Rasheed M. 2009. Phosphorus Solubilizing Bacteria: occurrence, mechanisms and their role in crop production. J. Agric. Biol. Sci. 1(1):48-58.
Lamour KH & Hausbeck MK. 2001. Investigating the spatiotemporal genetic structure of Phytophthora capsici in Michigan. Phytopathology 91: 973-980.
Lim JH & Kim SD. 2010. Biocontrol of phytophthora blight of red pepper caused by Phytophthora capsici using Bacillus subtilis AH18 and B. licheniformis K11 formulations. J Korean Soc. Appl. Biol. Chem. 53(6):766-773.
Louws FJ, Holmes GJ & Ristaino JB. 2002. Phytophthora blight of pepper and cucurbits; vegetable disease information note 27: College of Agriculture and Life Science, Plant Pathology Extension, North Carolina State University: 1-4 [internet]. [diunduh 2013 Februari 15]. Tersedia pada: https://www. ces.ncsu.edu/depts/pp/ notes/Vegetable/vdin02 7/vdin027.htm
Madigan TM, Martinko JM & Parker J. 2003. Brock Biology of Microorganisms 10th ed. Pearson Education Inc., New Jersey.
Majeed A, Abbasi MK, Hameed S, Iran A & Rahim N. 2015. Isolation and characterization of plant growth-promoting rhizobacteria from wheat rhizosphere and their effect on plant growth promotion. Frontiers in Microbiology. 6(198): 1-10.
Manohara D. 1988. Ekologi Phytophthora palmivora (Bulter), Penyebab Penyakit Busuk Pangkal Batang Lada (Piper nigrum L.) [Disertasi]. Bogor (ID). Institut Pertanian Bogor.
Manohara D, Mulya K & Wahyuno D. 2004. Phytophthora disease on black pepper and the control measures. Focus on Pepper 1: 37–49.
Manohara D, Wahyuno D & Noveriza R. 2005. Penyakit busuk pangkal batang tanaman lada dan strategi pengendaliannya [internet]. Research Gate: 41-51. [diunduh pada 26 Oktober 2016]. Tersedia pada: https://www.researchgate.net/publication/2929705 94
Meitz JC, Linde CC, Thompson A, Langenhoven S & McLeod A. 2010. Phytophthora capsici on vegetable hosts in South Africa: distribution, host range, and genetic diversity. Australasian Plant Pathology 39: 431-439.
Purwantisari S & Hastuti RB. 2009. Uji antagonisme jamur patogen Phytophthora infestans penyebab penyakit busuk daun dan umbi tanaman kentang dengan menggunakan Trichoderma spp. Isolat Lokal. Bioma. 11(1): 24-32.
Retnosari E, Henuk JBD & Sinaga MS. 2014. Identifikasi Penyebab Penyakit Busuk Pangkal Batang pada Jeruk. Jurnal Fitopatologi Indonesia. 10(3): 93–97.
Rosadiah NF, Ilyas S & Manohara D. 2015. Perlakuan benih cabai (Capsicum annuum L.) dengan rizobakteri secara tunggal atau kombinasi dapat mengendalikan Phytophthora capsici dan meningkatkan pertumbuhan tanaman. J. Hort. Indonesia 6(1): 1-10.
Sutariati GAK, Widodo, Sudarsono, Ilyas S. 2006a. Karakter fisiologis dan keefektifan isolat rizobakteri sebagai agens antagonis Colletotrichum capsici dan rizobakteri pemacu pertumbuhan tanaman cabai. J Ilmiah Pertanian Kultura 41(1): 28-34.
Sutariati GAK, Widodo, Sudarsono & Ilyas S. 2006b. Pengaruh perlakuan rizobakteri pemacu pertumbuhan tanaman terhadap viabilitas benih serta pertumbuhan bibit tanaman cabai. Bul. Agron. (34)(1): 46-54.
Syamsuddin. 2010. Perlakuan Benih untuk Pengendalian Penyakit Busuk Phytophthora, Peningkatan Hasil dan Mutu Benih Cabai Merah (Capsicum annuum L) [Disertasi]. Bogor (ID). Institut Pertanian Bogor.
Wahyuno D. 2009. Pengendalian terpadu busuk pangkal batang lada. Perspektif. 8(1):17-29.
Watanabe T. 2002. Pictorial Atlas of Soil and Seed Fungi (morphologies of cultures fungi and key to species). Second edition. London (GB), New York, Washington DC (US): CRC press.
Yamaguchi I. 1996. Pesticides of Microbial Origin and Applications of Moleculer Biology. Crop protection Agents From Nature: Natural Products and Analogues. The Royal Society Chemistry, London, United Kingdom (GB).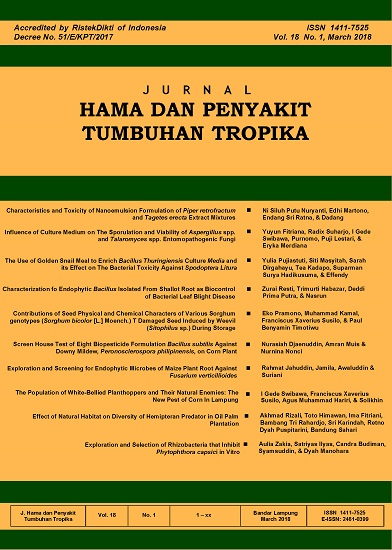 Downloads
License
Jurnal Hama dan Penyakit Tropika (JHPT Tropika) is licensed under a 
Creative Commons Attribution-NonCommercial 4.0 International License
.

Read Counter : 196 times

PDF Download : 49 times