THE POPULATION OF WHITE-BELLIED PLANTHOPPERS AND THEIR NATURAL ENEMIES: THE NEW PEST OF CORN IN LAMPUNG
Keywords:
Stenocranus pacificus, population growth pattern, specialist predators, generalist predators
Abstract
The Population of White-Bellied Planthoppers and their Natural Enemies: the New Pest of Corn in Lampung. The white-bellied planthoppers (Stenocranus pasificus), hereinafter referred to as WBP, as new exotic pests in Lampung have the poten-tial to reduce corn production and threaten national food sovereignty. Therefore, population of the pest needs to be managed to prevent the outbreaks. However, there is still limited information on the bio-ecology of WBP. Thus, this research was conducted to: 1) study the population growth pattern of WBP on various corn cultivars and 2) document the natural enemies of WBP. This research was carried out from May to December 2017with a survey method on several corn fields in South Lampung and planting trial on an experimental field of Faculty of Agriculture, Universitas Lampung planted with 3 corn cultivars, i.e. Madura, P-27 and NK which were arranged in randomized complete block design with three replications. The results of the research showed: 1) there were two peaks of population density observed during plant growth. The peak of adult stage of macroptera population density occurred at 17 and 53 days after planting (dap), the highest number of leaves with oviposition mass was observed at 24 and 65 dap, while the peak of population density of nymph stage and adult stage of brachiptera occurred at 31 and 75 dap; 2) Natural enemies of WBP included 9 orders, classified as specialist predators of mirid bugs (Cyrtorhynus) and rove beetles (Paederus), and generalist predators of spiders (Araneae) and lady beetles (Coccinellidae). The population of specialist predators was fluctuated depending on WBP population, while the population of generalist predators was varied.
References
Alagar M, Suresh R, Samiyappan R, & Saravanakumar, D. 2007. Reaction of resistant and susceptible rice genotypes against brown planthopper (Nilaparvata lugens). Phytoparasitica 35(4): 346–356.
Arifin Z & Fatmawati. 2011. Pemurnian dan pengembangan jagung varietas madding, talango dan guluk di Kabupaten Sumenep. Prosiding Seminar Nasional Serealia, Maros, Oktober 3-4, 2011. Pp. 103–112.
Beers EH, Mills NJ, Shearer PW, Horton DR, Milickzy ER, Amarasekare KG, & Gontijo LM. 2016. Nontarget effects of orchard pesticides on natural enemies: Lessons from the field and laboratory. Biol. Contr. 102: 44–52.
Belliure B & Michaud JP. 2001. Biology and behavior of Pseudodorus clavatus (Diptera: Syrphidae), an important predator of citrus aphids. Ann. Entomol. Soc. Am. 94(1): 91–96.
Day KR, Docherty M, Leather SR, & Kidd NAC. 2006. The role of generalist insect predators and pathogens in suppressing green spruce aphid population through direct mortality and mediation of aphid dropping behavior. Biol. Contr. 38(2): 233–246.
Maramis RTD. 2014. Diversitas laba-laba (Predator Generalis) pada tanaman kacang merah (Vigna angularis) di Kecamatan Tompaso, Kabupaten Minahasa. Jurnal Bioslogos 4(1): 33–40.
de Oliveira CM, de Oliveira E, Regina I, de Sousa IRP, Alves E, Dolesal W, Paradell S, Lenicov AMMDR, & Frizzas MR. 2013. Abundance and species richness of leafhopper and planthopper (Hemiptera: Cicadellidae and Delphacidae) in Brazilian maize crops. Fla. Entomol. 96(4): 1470–1481.
Dupo ALB & Barrion AT. 2009. Taxonomy and general biology of delphacid planthoppers in rice agroecosystem. In: Heong KL & Hardy B. (eds.) Planthopper: New threats to the sustainability of intensive rice production systems in Asia. International Rice Research Institute. Los Banos, Philippines.
Kalshoven LGE. 1981. The Pests of Crops in Indonesia. Revised by Van der Laan. PT Ichtiar Baru–Van Hoeve, Jakarta.
Dyck VA, Misra BC, Alam S, Chen CN, Hsieh CY, & Rejesus RS. 1979. Ecology of the brown planthopper in the tropics. In: IRRI (ed), Brown planthopper: Threat to Rice Production in Asia. Pp. 61–100.
Nasir S, Akram W, & Ahmed F. 2012. The population dynamics, ecological and seasonal activity of Paederus fuscipes Curtis (Staphylinidae; Coleoptera) in the Punjab, Pakistan. APCBEE Procedia 4: 36–41.
Naulth LR & Amar ED. 1989. Leafhopper and planthopper transmission of plant viruses. Ann. Rev. Entomol. 34: 503–529.
Nelly N, Syahrawati M, & Hamid H. 2017. Abundance of corn planthopper (Stenocranus pacificus) (Hemiptera: Delphacidae) and the potential natural enemies in West Sumatera Indonesia.
Biodiversitas 18(2): 697–700. Nicholls CI & Altieri MA. 2007. Agroecology: contributions towards a renewed ecological foundation for pest management. In: Kogan H & Jepson AP. Perspectives in Ecological Theory and Integrated Pest Management. Cambridge
University Press, Pp. 431–468.
Pappas ML, Broufas GD, & Koveos DS. 2011. Chrysopid predators and their role in biological control. J. Entomol. 8(3): 301–326.
Reyes TM & Gabriel BP. 1975. The life history and consumption habits of Cyrtorhinus lividipennis Reuter (Hemiptera: Miridae). Philipp. Ent. 3(2): 79–88.
Rosenheim JA, Wilhoit LR, & Armer CA. 1993. Influence of intraguild predation among generalist insect predators on the suppression of an herbivore population. Oecologia 96: 439–449.
Schenk D & Bacher S. 2002. Functional response of a generalist insect predator to one of its prey species in the field. J. Anim. Ecol. 71(3): 524–531.
Sheehan W. 1986. Response by specialist and generalist natural enemies to agroecosystem diversification: a selective review. Environ. Entomol. 15(3): 456– 461.
Shepard BM, Barrion AT, & Litsinger JA. 1995. Mitra petani padi: serangga, laba-laba dan
pathogen yang membantu. Program Nasional Pengendalian Hama Terpadu. Departemen Partanian, Jakarta.
Staley JT, Stewart-Jones A, Pope TW, Wright DJ, Leather SR, Hadley P, Rossiter JT, van Emden HF, & Poppy GM. 2010. Veriying responses of insect herbivores to altered plant chemistry under organic and conventional treatments. Proc. R. Soc. B 277: 779–786.
Symondson WOC, Sunderland KD, & Greenstone MH. 2002. Can generalist predators be effective biocontrol agents?. Annu. Rev. Entomol. 47: 561– 594.
Surtikanti. 2011. Hama dan penyakit penting tanaman jagung dan pengendaliannya. Prosiding Seminar Nasional Serealia. Maros, Oktober 3-4, 2011. Pp. 497–508.
Susilo FX, Swibawa IG, Indriyati, Hariri AM, Purnomo, Hasibuan R, Wibowo L, Suharjo R, Fitriana Y, Dirmawati SR, Solikhin, Sumardiyono, Rwandini RA, Sembodo DRY, & Suputa. 2017. The whitebellied planthopper (Hemiptera: Delphacidae) infesting corn plants in South Lampung, Indonesia. J. HPT Tropika 17(1): 96–103.
Syobu S, Mikuriya H, Yamaguchi J, Matsuzaki M, & Matsumura M. 2002. Fluctuations and Factors Affecting the Wing-Form Ratio of the Brown Planthopper, Nilaparvata lugens Stål in Rice Fields. Jpn. J. Appl. Entomol. Zool. 46(3): 135–143.
Untung K. 2001. Pengantar Pengelolaan Hama Terpadu. Gadjah Mada University Press.
Yogyakarta.
Visarto P, Zalucki MP, Nesbitt HJ, & Jahn GC. 2001. Effect of fertilizer, pesticide treatment, and plant variety on the realized fecundity and survival rates of brown planthopper, Nilaparvata lugens (Stål) (Homoptera: Delphacidae)-Generating outbreaks
in Cambodia. J. Asia-Pacific Entomol. 4(1): 75–84.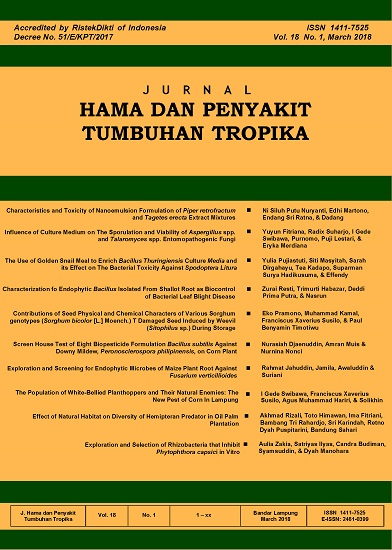 Downloads
License
Jurnal Hama dan Penyakit Tropika (JHPT Tropika) is licensed under a 
Creative Commons Attribution-NonCommercial 4.0 International License
.

Read Counter : 195 times

PDF Download : 32 times