PENGARUH SUHU DAN KERAPATAN INANG TERHADAP SUPERPARASISTISME OLEH ERIBORUS ARGENTEOPILOSUS: IMPLIKASI BAGI PENGENDALIAN HAYATI
Keywords:
Eriborus argenteopilosus, host density, host-parasitoid interaction, superparasitsme, temperature
Abstract
Effect of temperature and host density on superparasitisme by Eriborus argenteopilosus: Implication for biological control. Superparatism is a type of parasite in which the host is attacked by another parasitoid. Superparatism is influenced by several factors including temperature and host density. The aim of this research was to investigate the effect of temperature and host density on superparatism E. argenteopilosus. Different number of larva C. pavonana (15, 30, 60, 90 and 120) was infested with a female parasitoidat various temperature (200, 250, and 300C) for three hours. The larva host was disectionto enable us to count the number of eggs. The study result reveals that superparatism E. argenteopilosus was influenced by temperature and host density. Superparatism occured randomly at different temperature reaching the highest at 200 with host density of 15 and 30.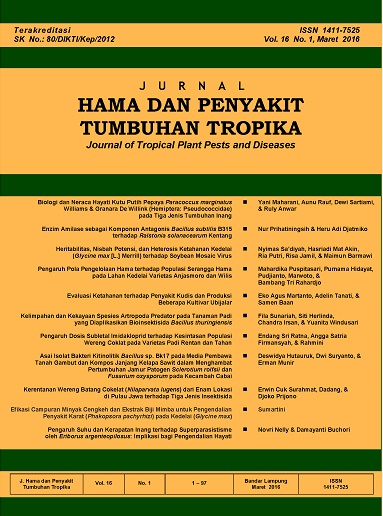 Downloads
License
Jurnal Hama dan Penyakit Tropika (JHPT Tropika) is licensed under a 
Creative Commons Attribution-NonCommercial 4.0 International License
.

Read Counter : 282 times

PDF Download : 404 times