SCREEN HOUSE TEST OF EIGHT BIOPESTICIDE FORMULATION BACILLUS SUBTILIS AGAINST DOWNY MILDEW, PERONOSCLEROSPORA PHILIPINENSIS, ON CORN PLANT
Keywords:
biological control agent (BCA), seed treatment, natural inoculation
Abstract
Screen House Test of Eight Biopesticide Formulation Bacillus subtilis against Downy Mildew, Peronosclerospora philipinensis, on Corn Plant. Corn downy mildew (DM) caused by Peronosclerospora spp. is a major constraint to the decline in maize production because it can cause yield loss up to 100%. So far, DM was successfully controlled with metalxyl fungicide. But lately, the effectiveness of this fungicide has begun to decline, so there is a need for an appropriate and environmentally friendly control alternative, one of which is the use of biological control agents. The aim of this study was to know the influence of eight types of biopesticide formulation of Bacillus subtilis in controlling DM of corn plant. The study was conducted at the screenhouse of the Indonesian Cereals Research Institute at Maros from November to December 2016. The treatments were arranged in a randomized block design with nine treatments and three replications. The treatment consisted of seed treatment with eight types of B. subtilis formulations (TM4, TM3, BNt4, BNt5, BNt6, BNt8, BJ6, and TLB1) and one treatment with sterile water (control). The variety used was Anoman which is known to be highly susceptible to DM. The variables observed included number of germination, the incidence and incubation period of disease, plant height, and dry weight of the plant. The results showed that the eight B. subtilis formulations had the potential to suppress DM in corn. The symptom of DM began to be seen at 18 days after planting (DAP) on the treatment of BNt8, while the controls have been seen at 12 HST. B. subtilis TM formulation has the highest potential to suppress DM with the percentage of disease suppression reaching 63.1%.
References
Amin N, Daha L, Nasruddin A, Junaed M, & Iqbal A. 2013. The use of endophytic fungi as biopesticide against downy mildew Peronosclerospora spp. on maize. Academic Research International 4(4): 153–159.
Asputri NU, Aini LQ, & Abadi AL. 2013. Pengaruh aplikasi Pyraclostrobin terhadap serangan penyebab penyakit bulai pada lima varietas jagung (Zea mays). Jurnal HPT 1(3): 77–84.
Awais M, Pervez A, Yaqub A, & Shah MM. 2010. Production of antimicrobial metabolites by Bacillus subtilis immobilized in Polyacrymilade gel. Pak. J. Zool. 42(3): 267–275.
Burhanuddin. 2009. Fungisida metalaksil tidak efektif menekan penyakit bulai (Peronosclerospora maydis) di Kalimantan Barat dan alternatif pengendaliannya. Prosiding Seminar Nasional Serealia. Hlm. 395–399. Maros, July 29, 2009. Balai Penelitian Tanaman Serealia.
Fahmi T & Sujitno E. 2015. Keragaan produktivitas varietas jagung pada musim hujan di lahan kering dataran tinggi Kabupaten Bandung, Jawa Barat. Pros. Sem. Masy. Biodiv. Indon. 1(7): 1674–1677.
Hoerussalam, Purwantoro A, & Khaeruni A. 2013. Induksi ketahanan tanaman jagung (Zea mays L.) terhadap penyakit bulai melalui seed treatment serta pewarisannya pada generasi S1. Ilmu Pertanian 16(2): 42–59.
Jatnika W, Abadi AL, & Aini LQ. 2013. Pengaruh aplikasi Bacillus sp. dan Pseudomonas sp. terhadap perkembangan penyakit bulai yang disebabkan oleh jamur patogen Peronosclerospora maydis pada tanaman jagung. Jurnal HPT 1(4): 19–29.
Lukman R, Afifuddin A, & Lubberstedt T. 2013. Unraveling the genetic diversity of maize downy mildew in Indonesia. J. Plant Pathol. Microbiol. 4(2): 1–8.
Muis A, Pabendon MB, Nonci N, & Waskito WP. 2013. Keragaman genetik Peronosclerospora maydis penyebab bulai pada jagung berdasarkan analisis marka SSR. Jurnal Penelitian Pertanian Tanaman Pangan 32(3): 139–147.
Muis A, Nonci N, & Pabendon MB. 2016. Geographical distribution of Peronosclerospora spp., the causal organism of maize downy mildew, in Indonesia. AAB Bioflux 8(3): 143–155.
Pakki S & Burhanuddin. 2013. Peranan varietas dan fungisida dalam dinamika penularan patogen obligat parasit dan saprofit pada tanaman jagung. Prosiding Seminar Nasional Serealia. Maros June 18, 2013. Balai Penelitian Tanaman Serealia.
Rustiani US. 2015. Keragaman dan Pemetaan Penyebab Penyakit Bulai Jagung di 13 Provinsi Indonesia. Disertasi. Institut Pertanian Bogor. Bogor.
Sadoma MT, El-Sayed ABB, & El-Moghazy MM. 2011. Biological control of downy mildew diseases of maize caused by Peronosclerospora sorghi using certain biocontrol agents alone or in combination. J. Agr. Res. 37(1): 1–11.
Soenartiningsih, Talanca AH, Juniarsih, & Yasin HG. 2008. Pengujian beberapa varietas/galur jagung terhadap penyakit busuk pelepah dan bulai. Prosiding Seminar Ilmiah dan Tahunan PEI-PFI XIX Komda Sulsel. Makassar.
Sonhaji MY, Surahman M, Ilyas S, & Giyanto. 2013. Perlakuan benih untuk meningkatkan mutu dan produksi benih serta mengendalikan penyakit bulai pada jagung manis. J. Agron. Indones. 41(3): 242–248.
Sujiprihati S, Syukur M, Makkulawu AT, & Iriany RN. 2012. Perakitan varietas hibrida jagung manis berdaya hasil tinggi dan tahan terhadap penyakit bulai. JIPI 17(3): 159–165.
Suriani & Muis A. 2016. Prospek Bacillus subtilis sebagai agen pengendali hayati patogen tular tanah pada tanaman jagung. J. Litbang Pert. 35(1): 37–45.
Talanca AH & Tenrirawe A. 2015. Respon beberapa varietas terhadap penyakit utama jagung di Kabupaten Kediri Jawa Timur. Jurnal Agrotan. 1(1): 67–78.
Utomo SD, Islamika N, Ratih S, & Ginting C. 2010. Pengaruh fungisida metalaksil-M terhadap keterjadian penyakit bulai dan produksi populasi jagung lagaligo X tom thumb. Jurnal Agrotropika 15(2): 56–59.
Zainudin, Abadi AL, & Aini LQ. 2014. Pengaruh pemberian Plant Growth Promoting Rhizobacteria (Bacillus subtilis dan Pseudomonas fluorescens) terhadap penyakit bulai pada tanaman jagung (Zea mays L.). Jurnal HPT 2(1): 11–18.
Zongzheng Y, Xin L, Zhong L, Jinzhao P, Jin Q, & Wenyan Y. 2009. Effect of Bacillus subtilis SY1 on antifungal activity and plant growth. Int. J. Agric. Biol. Eng. 2(4): 55–61.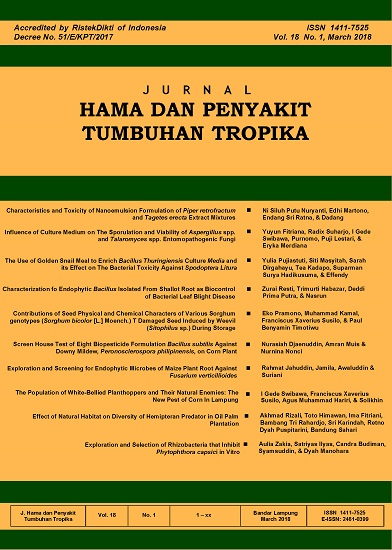 Downloads
License
Jurnal Hama dan Penyakit Tropika (JHPT Tropika) is licensed under a 
Creative Commons Attribution-NonCommercial 4.0 International License
.

Read Counter : 300 times

PDF Download : 87 times