AKTIVITAS INSEKTISIDA BAGIAN TUMBUHAN CALOPHYLLUM SOULTTRI BURM.F. (CLU IACEAE) TERHADAP LARVA LEPIDOPTERA
Keywords:
Plant extracts, botanical insecticides, Lepidoptera larvae
Abstract
 The objective of this test was evaluate the insecticidal activity of ectract of some parts of Calophyllum soulattri (Clusiaceae) against larvae of three species of Lepidoptera, i. e Crocidolomia pavonana, Plutella xylostela, and Pieris sp.. Extraction of plant materials was done by infusion method using ethanol. The bioassays were conducted by leaf-feeding method. Second-instar larvae were fed extract-treated broccoli leaves of 48 hours, then they were presented with untreated leaves until the surviving larvae larvae reached the fourth-instar stage. The number of dead larvae was recorded daily an larval mortality date were analyzed by probit method. The result showed the gummy bark exudates and bark extract of old and young C. soulattri plants were highly active against C. pavonana. The abrk extact of old C. soulattri plant was also effective against P. xilostella and Pieris sp. The gummy exudates possessed strong insecticidal activity against C. pavonana larvae with LC50 of 0.04% and prolonged the developmental time from second to fourth instar of C. soulattri 2.03-7.25 days compared with control. The bark excudate gave positive respon to alkaloid flavonoid, and tannin test. Futher studies are needed to identify insecticidal compound in those active extracts.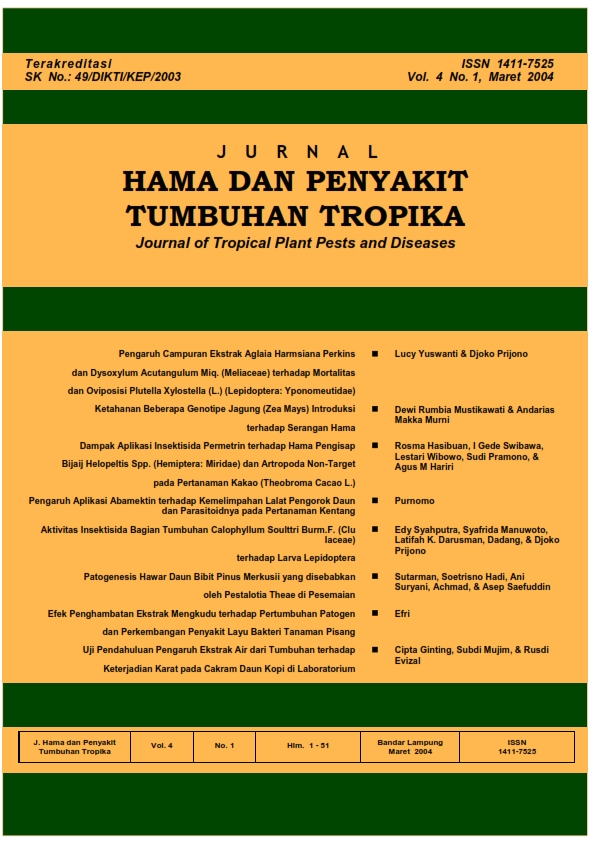 Downloads
License
Jurnal Hama dan Penyakit Tropika (JHPT Tropika) is licensed under a 
Creative Commons Attribution-NonCommercial 4.0 International License
.

Read Counter : 104 times

PDF Download : 145 times