KETAHANAN BEBERAPA GENOTIPE JAGUNG (ZEA MAYS) INTRODUKSI TERHADAP SERANGAN HAMA
Keywords:
Jagung, genotype, ketahanan terhadap hama
Abstract
The resistance of some_introduced hybrid genotypes maize (Zea mays) towards insect pests. Plant resistance to insect pest play an important role in integrated pest management. Fourty hybrid genotypes released by CIMMYT Mexico and two National hybrid varieties (Pioner 13 and Andalas) as local control had been tested threir resistance to insect pests. The trial was conducted at Natar Station Experimental, South Lampung from April to July 2002. The objective of the experiment was to obtaine the hybrid genotypes in which have a good tolerint or resistance toward insect pests. Alpha latice design with three replicates were used in this experiment. The varieties were grown in two-row plots of 5 m length at row-to-row spacing of 75 cm and hill-to-hill spacing within rows of 25 cm. 300 kg Urea, 150 kg SP-36 and 100 kg KCI ha_1 was applied to the trial. Insect pests damage were observe d at 16 and 80 days after planting. The results showed that there were 12 genotypes have moderate resistance toward insect pests: CMS 991006, CTM 011004, CMT 011018, CMT 011028, CMT 011030, CMT 011036, CMT 011038, CMT 011044, CMT 011050, CMS 951220 (RE), CMT 011056, CMT 011060 and one genotype was susceptible that was CMS 991018, however the others showed varies resistance traits against insect pest.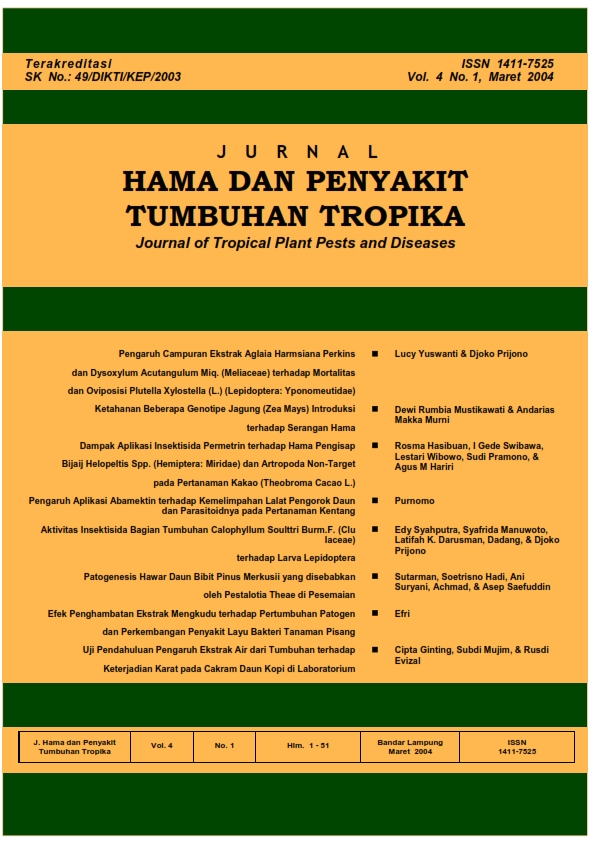 Downloads
License
Jurnal Hama dan Penyakit Tropika (JHPT Tropika) is licensed under a 
Creative Commons Attribution-NonCommercial 4.0 International License
.

Read Counter : 113 times

PDF Download : 198 times