PENGARUH POLA PENGELOLAAN HAMA TERHADAP POPULASI SERANGGA HAMA PADA LAHAN KEDELAI VARIETAS ANJASMORO DAN WILIS
Keywords:
Anjasmoro variety, IPM, population, soybean pest, Wilis variety
Abstract
Effect of pest management systems to the insect pests population on Anjasmoro and Wilis soybean varieties. The integrated pest management (IPM) is a pest control approach which is based on ecological and economic considerations. The objective of this research was to study the effect of different pest management systems on the insect pest population using two soybean varieties, Anjasmoro and Wilis.The experiments were done in a randomized complete block design, repeated twice. The pest management systems under the different plots were integrated pest management, non-chemical control, chemical control, and the control (which received neither chemicals nor IPM). Observations were made on the pest population and the intensity of the damage caused by primary soybean pests. The primary pests observed were Ophiomya phaseoli, Aphis gossypii, Lamprosema indicata, Spodoptera litura, Bemisia tabaci, Riptortus linearis and Etiella zinckenella. Integrated pest management significantly affect the population of whitefly on Anjasmoro variety but not on Wilis variety. The populations of bean fly, aphid, leaf roller, armyworm, stink bug and pod borer were not affected by pest management system. The lower yield of Anjasmoro variety was attributed to the attack by a viral infection whose disease incidence reached 80% on the plots without a pest management system. IPM management system was more efficient than chemical management system.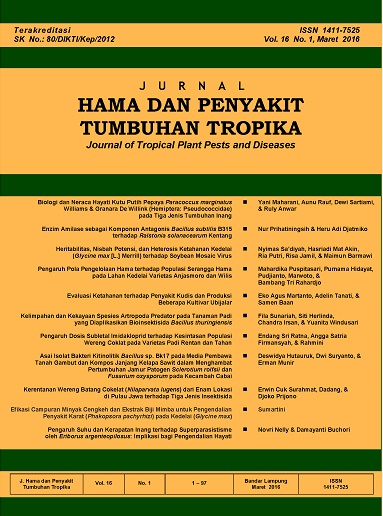 Downloads
License
Jurnal Hama dan Penyakit Tropika (JHPT Tropika) is licensed under a 
Creative Commons Attribution-NonCommercial 4.0 International License
.

Read Counter : 498 times

PDF Download : 588 times