EKSPLORASI DAN IDENTIFIKASI TRICHODERMA ENDOFITIK PADA PISANG
Keywords:
Identification, banana, Fusarium oxysporum f.sp. cubense, Trichoderma endophytic
Abstract
Exploration and identification of endophytic Trichoderma in banana. Endophytic fungi Trichoderma is an organism that can used as biocontrol agent. This study aims to isolate and identify endophytic Trichoderma in roots of healthy banana plants from three districts in Yogyakarta, which will be used as biological control agent against the pathogen Fusarium oxysporum f.sp. cubense. Isolation was conducted using TSM (Trichoderma Selective Medium). We obtained six isolates of endophytic Trichoderma spp., i.e., Swn-1, Swn-2, Ksn, Psr-1, Psr-2, and Psr-3. Molecular identification was done by using ITS1 and ITS2 primer pain and sequenced. The sequence of DNA obtained was analysed and compared with NCBI database by using BLAST-N programe. The results showed that all isolates were amplified at 560-bp. Phylogenetic analysis showed that isolates Swn-1, Swn-2 and Psr-1 are homologous to Trichoderma harzianum, isolate Ksn homologous to Trichoderma asperrellum, isolate Psr-2 homologous to Trichoderma gamsii, and isolate Psr-3 homologous to Trichoderma koningiopsis, with the homologous value of 99%.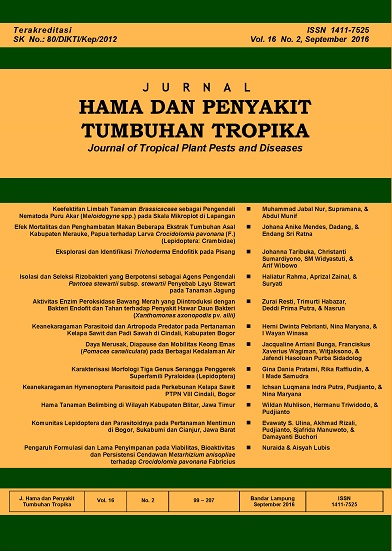 Downloads
License
Jurnal Hama dan Penyakit Tropika (JHPT Tropika) is licensed under a 
Creative Commons Attribution-NonCommercial 4.0 International License
.

Read Counter : 376 times

PDF Download : 1414 times