HAMA TANAMAN BELIMBING DI WILAYAH KABUPATEN BLITAR JAWA TIMUR
Keywords:
damage intensity, density, pest, star fruit
Abstract
Pests of star fruit in Blitar District, East Java. Pest attack causes the production of star fruit decreases. This study aim was to identify the pests of star fruit in Blitar District which could provide an information about pest species, damage symptoms and damage intensity. The research was conducted during August – September 2014 in Gogodeso, Karangsonoand Pojok Villages at Blitar District, East Java. Observations of the pests ware done by determining the four locations of plantation on each villages randomly. Three plants sample were choosen in each plantation location diagonally. Each plant was divided into four quadrant according to wind directions. One branch in the bottom was choosen in each quadrant. Nine species were recorded as pests of starfruit in Blitar district. Pest was identified on the leaf was Pteroma plagiophleps, on the branch was Zeuzera coffeae, on the flower were Toxoptera aurantii and Maconellicoccus hirsutus, whereas those on the fruit were Toxoptera aurantii, Maconellicoccus hirsutus, Thrips javanicus, Helopeltis bradyi, Cryptophlebia leucotreta, Bactrocera dorsalis, and Bactrocera carambolae. The population density of M. hirsutus was higher in Karangsono than in other villages. The highest damage intensity was caused by Bactrocera spp., C. leucotreta and H. bradyi (occured in Gogodeso), whereas the highest damage intensity of T. javanicus occurred in Pojok.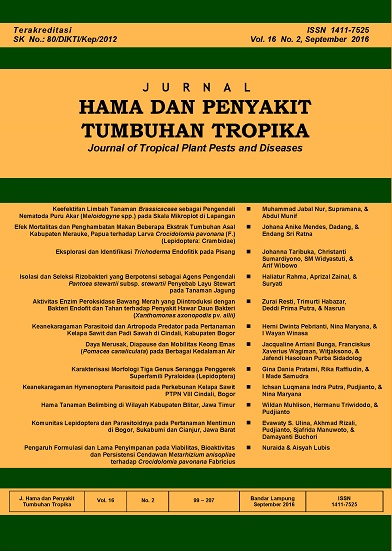 Downloads
How to Cite
(1)
Muhlison, W.; Triwidodo, H.; ., P. HAMA TANAMAN BELIMBING DI WILAYAH KABUPATEN BLITAR JAWA TIMUR. J Trop Plant Pests Dis 2017, 16, 175-183.

Read Counter : 614 times

PDF Download : 1708 times