PENGARUH FORMULASI DAN LAMA PENYIMPANAN PADA VIABILITAS, BIOAKTIVITAS DAN PERSISTENSI CENDAWAN METARHIZIUM ANISOPLIAE TERHADAP CROCIDOLOMIA PAVONANA FABRICIUS
Keywords:
entomopathogenic fungi, formulation, M. anisopliae, viability and persistence
Abstract
Effects of formulations and storage length on the viability, bioactivity and persistence of Metarhizium anisopliae against Crocidolomia pavonana Fabricius. Crocidolomia pavonana Fabricius (Lepidoptera: Pyralidae) is important pest on vegetables form Brassicaceae family, that required to be control. Metarhizium anisopliae entomopathogenic fungus is one potensial of the biological agent that can be used to control C. pavonana. This study aimed to investigated the effect of storage duration on viability, bioactivity and persistence of M. anisopliae after formulated to control C. pavonana. Laboratory experiment was arranged in completely randomized design with the treatment was storage duration that included 2,4,6,8 and 10 weeks that replicated three trials. The variabels to be measured were viability and bioactivity at concentrations106, 107, and108. Field experiment used T Student test with treatment was duration of M. anisopliae formulation survive and its persistence on C. pavonana. Laboratory experiment results showed that the best storage duration of formulation on Metarhizium viability was pellet frmulation at 4th week 4 after storage. While the best bioactivity was pellet formulation with concentration 107 at 10 weeks after storage. Field experiment results showed that M. anisopliae formulation could be survived and its persistence to control pests C. pavonana until 4th day after application, either pellet or powder formulation.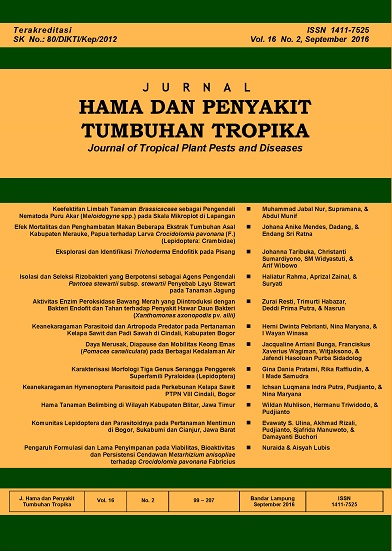 Downloads
License
Jurnal Hama dan Penyakit Tropika (JHPT Tropika) is licensed under a 
Creative Commons Attribution-NonCommercial 4.0 International License
.

Read Counter : 318 times

PDF Download : 680 times