KEANEKARAGAMAN HYMENOPTERA PARASITOID PADA PERKEBUNAN KELAPA SAWIT PTPN VIII CINDALI, BOGOR
Keywords:
diversity, fluctuation, parasitoid
Abstract
Diversity of parasitic Hymenoptera in PTPN VIII oil palm plantation Cindali, Bogor. One group of important natural enemies in oil palm plantation is parasitic Hymenoptera. The purpose of this research is to know the diversity and fluctuation of parasitic Hymenoptera PTPN VIII Cindali oil palm plantation. This research was conducted in 6 blocks of oil palm in September 2014 – June 2015. There were 5 plots in every observation blocks 39.2 x 39.2 m in size, and used direct and indirect method. Direct method done by 5 plants in every plots was taken randomized to observed and taken the herbivore insects to reared until the parasitic Hymenoptera came out. Observation of cover crops conducted by 3 subplots determined diagonally in every plots 9.8 x 9.8 m in size and herbivore insects was observed and collected. Indirect methods used sweep net and yellow pan trap. The result of this research, 26 parasitic Hymenoptera families was found, with the Braconidae was the most morphospecies found and the most individual amount was Scelionidae. The abundance of parasitoid in every month fluctuated.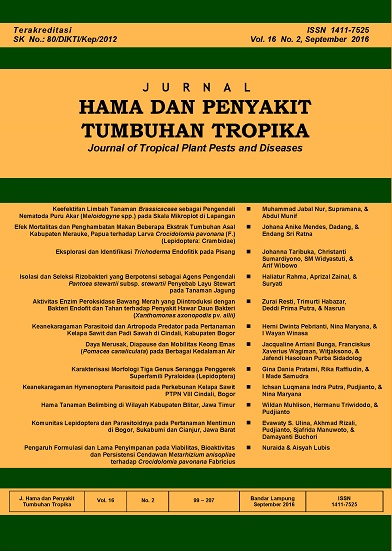 Downloads
License
Jurnal Hama dan Penyakit Tropika (JHPT Tropika) is licensed under a 
Creative Commons Attribution-NonCommercial 4.0 International License
.

Read Counter : 243 times

PDF Download : 527 times