KARAKTERISASI MORFOLOGI TIGA GENUS SERANGGA PENGGEREK (LEPIDOPTERA: PYRALOIDEA)
Keywords:
Etiella, external morphology, genitalia, Ostrinia, Scirpophaga
Abstract
Morphological characterization of three genere of insect borer (Lepidoptera: Pyraloidea). The objective of the research was to characterize the morphological differences of insect borers between Genus Etiella (Pyralidae: Phycitinae), Scirpophaga (Crambidae: Schoenobiinae), and Ostrinia (Crambidae: Pyraustinae). Observed characters were based on external morphology and genitalia. The result showed that Crambidae has praecinctorium in the tympanic organs, while lack of in Pyralidae. Phycitinae had chaetosema, proboscis, cubital pecten and the elongated forewing. Pyraustinae was lack of chaetosema and their forewings are wide towards termen. Whereas, Schoenobiinae had chaetosema with elongated forewing. Etiella had scales on antemedial area and their veins M2-M3 are fused. Forewing of Ostrinia had 11 veins and the corpus bursae shape was round irregular. Forewing of Scirpophaga had 12 veins, anal hair tuft, coremata, and the corpus bursae is round. The main characteristics used in identification at family and subfamily level were the praecinctorium, chaetosema, the shape of the forewings, proboscis, and cubital pecten. Whereas at genus level; anal hair tuft, coremata, and shape of the corpus bursae formed the basis of characterization. The morphological characterization was used to make the key identification of insect borers in Indonesia.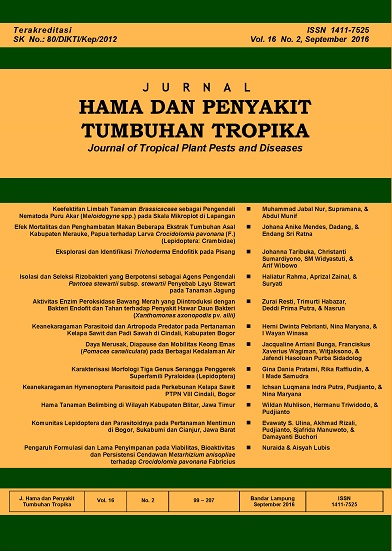 Downloads
License
Jurnal Hama dan Penyakit Tropika (JHPT Tropika) is licensed under a 
Creative Commons Attribution-NonCommercial 4.0 International License
.

Read Counter : 595 times

PDF Download : 800 times