KEANEKARAGAMAN PARASITOID DAN ARTROPODA PREDATOR PADA PERTANAMAN KELAPA SAWIT DAN PADI SAWAH DI CINDALI, KABUPATEN BOGOR
Keywords:
ground vegetation, insect trap, natural enemies
Abstract
Diversity of parasitoid and predator arthropod in oil palm and paddy field at Cindali, Bogor Regency. Biodiversity can be defined as the diversity of living things in various places to the riches on earth. Insects as one of the components of biodiversity have an important role in the food web as herbivores, carnivores (parasitoids and predators), and detritivores. The research aimed to study the diversity of parasitoids and predators at two sampling locations. Sampling was carried out at the oil palm plantation PTPN VIII Cindali, Ranca Bungur, Bogor and at the paddy fields that adjacent to the plantation. This research was conducted in December 2014 until July 2015. This research takes 3 plots in oil palm plantations and 3 plots in paddy field. Each plot consists of 5 subplots, one of each was 18 x 18 m. Sampling was carried out following the paddy age, since 2 week after plantation until paddy harvested and repeated every 2 weeks. This research use three methods, i.e. insect nets, pitfall trap and yellow pan trap. The results showed that the diversity of parasitoids and predators on both planting locations was high. In the oil palm plantations the total number of insect parasitoids and predators was 184 morphospecies from 10 orders and 57 families, while in the paddy fields was 183 morphospecies from 10 orders and 60 families. Telenomus podisi parasitoids and predators Anoplolepis gracilipes is morphospecies with the highest abundance.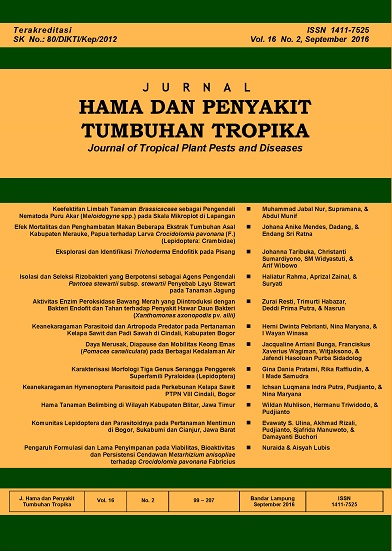 Downloads
License
Jurnal Hama dan Penyakit Tropika (JHPT Tropika) is licensed under a 
Creative Commons Attribution-NonCommercial 4.0 International License
.

Read Counter : 616 times

PDF Download : 1143 times