KEEFEKTIFAN LIMBAH TANAMAN BRASSICACEAE UNTUK PENGENDALI NEMATODA PURU AKAR (MELOIDOGYNE SPP.) PADA MIKROPLOT DI LAPANGAN
Keywords:
biofumigant, glucosinolates, isothiocyanates, tomatoes
Abstract
Effectivenes of Brassicaceae plant wastes to control the root knot nematodes (Meloidogyne spp.) at a field microplot scale. Meloidogyne spp. is a soil borne pathogen that infects plant roots and causes root galls. Root knot nematodes can reduce crop production by 15 to 95%, so that the control measures are needed. One of the control methods is using plants as biofumigant. Plants of the family Brassicaceae were reported contain glucosinolate (GSL). During decomposition, GSL is hydrolized to isothiocyanates (ITS) which is a highly toxic compound to soil organisms, including nematodes. The research objective was to determine the effectiveness of five Brassicaceous plant wastes, namely cabbage (B. oleracea var capitata), radish (Raphanus sativus), broccoli (B. oleracea var italica), chinese cabbage (B. chinensis) and pakcoy (B. rapa var parachinensis) to suppress root knot nematodes (RKN). The experiment was conducted on microplot scale in the field. The experimental design used was a 4x5 factorial CRD. The first factors are waste of Brassica and the second factors are the amount of Brassica wastes per microplot. The experiments were made in 6 replications. Application of 5 Brassica plant wastes at all doses tested effectively reduced the number of root knot by 45.65% to 94.43% and increased the average number of tomato fruits. Tomato plants grew better at microplots when treated with chinese cabbage and pakcoy wastes.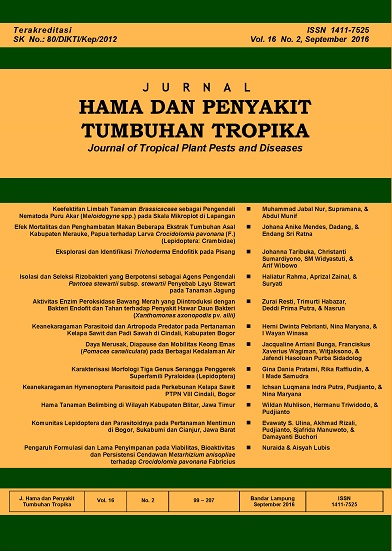 Downloads
License
Jurnal Hama dan Penyakit Tropika (JHPT Tropika) is licensed under a 
Creative Commons Attribution-NonCommercial 4.0 International License
.

Read Counter : 1083 times

PDF Download : 716 times