Pengaruh Musim terhadap Perkembangan Atelocauda digitata, Penyebab Penyakit Karat pada Acacia auricaliformis di Yogyakarta
Keywords:
Atelocauda digitata, Acacia auriculiformis, rust disease
Abstract
ABSTRACT

Seasonal effect on the growth of Atelocauda digitata, the cause of rust disease on Acacia auriculiformis in Yogyakarta. The research was aimed to determine the growth of Atelocauda digitata which attacks Acacia auriculiformis in Gunung Kidul, Yogyakarta and determine the process of A. digitata infection on A. auriculiformis. Quantification of the presence of pathogen and the damage as part of tree health monitoring was represented by the percentage of disease incidence and severity, that was used as a benchmark of A. digitata dynamics. Pathogenic organisms were confirmed by pathogenicity test. The process of infection was studied microscopically and macroscopically. Percentage of disease incidence and severity of all three observation plots during the rainy and the dry season were dynamic, with the highest damage discovered in Plot 5. A.  digitata infecting A. auriculiformis produces three types of spores, namely teliospores, uredospores and aeciospores. The hyphae  infected the leaf tissue two days after inoculation through stomata. Intracellular hyphae were found five days after inoculation.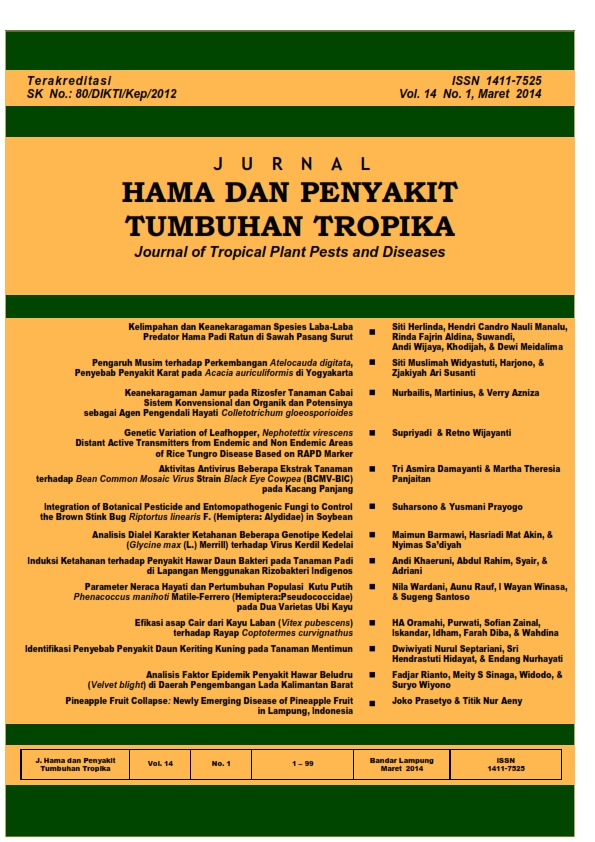 Downloads
How to Cite
(1)
Widyastuti, S. M.; Harjono, .; Susanti, Z. A. Pengaruh Musim Terhadap Perkembangan Atelocauda Digitata, Penyebab Penyakit Karat Pada Acacia Auricaliformis Di Yogyakarta. J Trop Plant Pests Dis 2014, 14, 8-15.

Read Counter : 346 times

PDF Download : 509 times