KELIMPAHAN DAN KEANEKARAGAMAN SPESIES LABA-LABA PREDATOR HAMA PADI RATUN DI SAWAH PASANG SURUT
Keywords:
abundance, biodiversity, ratoon, spiders
Abstract
ABSTRACTAbundance and Species Diversity of Predatory Spiders for Insect Pests Inhabiting Ratoon Paddy in Tidal Lowland.  Ratoon paddy productivity is lower than the main crop.  Increasing productivity of the ratoon paddy is to protect the paddy from pests and diseases. This study aimed to analyze the abundance and species diversity of predatory spiders of rice pests on ratoon paddy in tidal lowland. Ratoon paddy field observed was from the main crop that has been harvested and cut 20 cm height. Paddy area observed was 2 ha field planted using Ciherang and Inpara varieties. Spiders inhabiting canopy were sampled using insect nets but soil dwelling spiders were trapped using pitfall traps. The result showed that spider species inhabiting canopy of ratoon paddy were Pardosa pseudoannulata, Lycosa chaperi, Araneus inustus, Cylosa insulana, Atypena adelinae, Erigone bifurca, Erigonidium graminicola, Oxyopes javanus, Argyrodes miniaceus, and Marpisa magister.  Spider species found soil dwelling were 11 species, namely Pardosa pseudoannulata, Pardosa sumatrana, Pardosa mackenziei, Pardosa oakleyi, Hogna rizali, Araneus inustus, Cylosa insulana, T. vermiformis, Runcinia albostriata, Coleosoma octomaculatum, and Marpisa magister. Abundance, species number, species diversity for soil dwelling spiders were higher than those for canopy inhabiting spiders. However, the abundance, species number, species diversity for the soil dwelling spiders  tended to be higher on the ratoon paddy 3, 4, and 5 week old than those on 1, 2, and 6 week old.  From the result, we concluded that abundance, species number, species diversity of spiders found in the ratoon paddy were higher or tended similar to those on the main crop.
References
Barrion AT & Litsinger JA. 1994. Taxonomy of rice insect pest and their arthropod parasites and predators. In: Heinrichs EA (Eds.). Biology and Management of Rice Insects. International Rice Research Institute, Philippines. pp.13–362.
Denno RF, Mitter MS, Langellotto GA, Gratton C, & Finke DL. 2004. Interactions between a hunting spider and a web-builder: consequences of intraguild predation and cannibalism for prey suppression. Ecol. Entomol. 29(5): 566–577.
Fachrul MF. 2007. Metode Sampling Bioekologi. Bumi Aksara, Jakarta.
Herlinda S, Rauf A, Sosromarsono S, Kartosuwondo U, Siswadi, & Hidayat P. 2004. Artropoda musuh alami penghuni ekosistem persawahan di daerah Cianjur, Jawa Barat. J. Entomol. Indon. 1(1): 9–15.
Herlinda S, Waluyo, Estuningsih SP, & Irsan C. 2008. Perbandingan keanekaragaman spesies dan kelimpahan arthropoda predator penghuni tanah di sawah lebak yang diaplikasi dan tanpa aplikasi insektisida. J. Entomol. Indones. 5(2):96-107.
Iida H & Fujisaki K. 2007. Seasonal changes in resource allocation within an individual offspring of the wolf spider, Pardosa pseudoannulata (Araneae: Lycosidae). Physiol. Entomol. 32(1): 81–86.
Ishijima C, Taguchi A, Takagi M, Motobayashi T, Nakai M, & Kunimi Y. 2006. Observational evidence that the diet of wolf spiders (Araneae: Lycosidae) in paddies temporarily depends on dipterous insects. Appl. Entomol. Zool. 41(2): 195–200.
Kalshoven LGE. 1981. The Pests of Crops in Indonesia. Ichtiar Baru-Van Hoeve. Jakarta.
Karindah S. 2011. Predation of five generalist predators on brownplanthopper (Nilaparvata lugens Stål). J. Entomol. Indon. 8(2): 55–62.
Khodijah, Herlinda S, Irsan C, Pujiastuti Y, & Thalib R. 2012. Artropoda predator penghuni ekosistem persawahan lebak dan pasang surut Sumatera Selatan. J. Lahan Suboptimal 1(1): 57–63.
Marschner H. 1995. Mineral Nutrition of Higher Plants. 2nd Ed. Academic Press Harcourt Brace and Company, London.
Nair AS & Rosamma CA. 2002. Character association in ratoon crop of rice (Oryza sativa L.). J. Trop Agric. 40(2): 1–3.
Nelly N, Trizelia, & Syuhadah Q. 2012. Tanggap fungsional Menochilus sexmaculatus Fabricius (Coleoptera: Coccinellidae) terhadap Aphis gossypii (Glover) (Homoptera: Aphididae) pada umur tanaman cabai berbeda. J. Entomol. Indon. 9(1): 23–31.
Preap V, Zalucki MP, Jahn GC, & Nesbitt HJ. 2001. Effectiveness of brown planthopper predators: population suppression by two species of spider, Pardosa Pseudoannulata (Araneae, Lycosidae) and Araneus inustus (Araneae, Araneidae). J. Asia-Pacific Entomol. 4(2): 187–193.
Schmidt MH & Tscharntke T. 2005. Landscape context of sheetweb spider (Araneae: Linyphiidae) abundance in cereal fields. J. Biogeography 32(3): 467–473.
Schmitz OJ. 2003. Top predator control of plant biodiversity and productivity in an old-field ecosystem. Ecol. Lett. 6(2): 156–163.
Sudarjat, Utomo A, & Dono D. 2009. Biologi dan kemampuan memangsa Paederus fuscipes Curtis (Coleoptera: Staphylinidae) terhadap Bemisia tabaci Gennadius (Homoptera: Aleyrodidae). J. Agrikultura 20(3): 204–209.
Wilby A, Villareal SC, Lan LP, Heong KL, & Thomas MB. 2005. Functional benefits of predator species diversity depend on prey identity. Ecol. Entomol. 30(5): 497–501.
Wu G, Wilson LT, & McClung AM. 1998. Contribution of rice tillers to dry matter accumulation and yield. Agron J. 90(3): 317–323.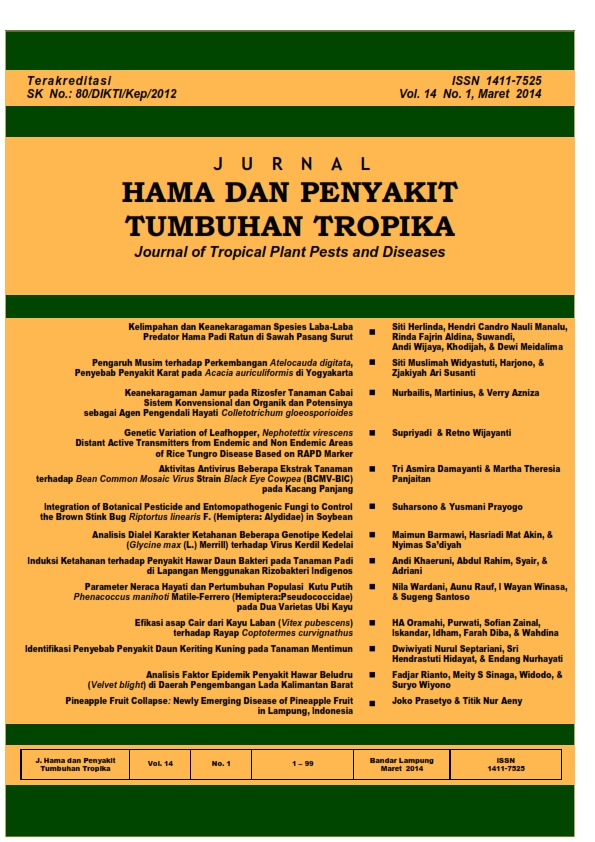 Downloads
License
Jurnal Hama dan Penyakit Tropika (JHPT Tropika) is licensed under a 
Creative Commons Attribution-NonCommercial 4.0 International License
.

Read Counter : 1208 times

PDF Download : 690 times