EKSPLORASI POTENSI GULMA SIAM (CHROMOLAENA ODORATA) SEBAGAI BIOFUNGISIDA PENGENDALI PHYTOPHTHORA PALMIVORA YANG DIISOLASI DARI BUAH KAKAO
Keywords:
cocoa pod rot, Phytophthora palmivora, Chromolaena odorata, tip extract, root extract
Abstract
The research was aimed to investigate: (1) distribution and population of Chromolaena odorata (siam weed) in different land-uses (paddy field, untreated land, houseyard, roadside and river/irigation side) in Bandar Lampung, South Lampung, Tanggamus, and East Lampung; (2) effect of C. odorata extract on in-vitro growth of Phytophthora palmivora, (3) effect of C. odorata extract on development of fruit rot symptom caused by P. palmivora on cocoa pod in the laboratory and in the field. Collecting of P. palmivora isolates and recording distribution and population of C. odorata were conducted in several locations known as endemic areas of cocoa pod rot disease. The effect of C. odorata extract on the growth of P. palmivora on agar media and cocoa pods was determine in the Laboratory of Plant Disease, Plant Protection Department, Faculty of Agriculture, University of Lampung. Field experiment was performed in a cocoa plantation in Kemiling, Bandar Lampung. The results showed that C. odorata weed can be found in all of the land-uses surveyed, but the highest population was found in the untreated land-use.  The tips (young leaves and stems) extract of C. odorata showed a greater inhibition effect on the growth of P. palmivora compared to the root extract. The tips extract showed the best inhibition in-vitro growth of P. palmivora at 40% concentration level, inhibited symptom development on cocoa pods in the laboratory at 50% concentration level, and on cocoa pods in the field at 60% concentration level.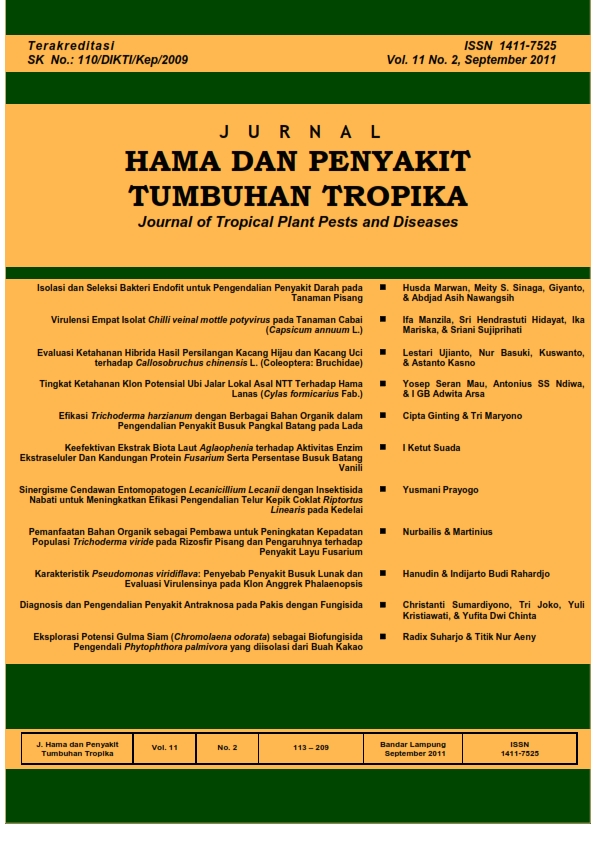 Downloads
License
Jurnal Hama dan Penyakit Tropika (JHPT Tropika) is licensed under a 
Creative Commons Attribution-NonCommercial 4.0 International License
.

Read Counter : 807 times

PDF Download : 492 times