KEEFEKTIVAN EKSTRAK BIOTA LAUT AGLAOPHENIA TERHADAP AKTIVITAS ENZIM EKSTRASELULER DAN KANDUNGAN PROTEIN FUSARIUM SERTA PERSENTASE BUSUK BATANG VANILI
Keywords:
cellulase, pectinase, Aglaophenia, stem rot
Abstract
The aim of this research was to investigate the effect of Aglaophenia extract on the activity of cellulase and pectinase, protein content of Fusarium, and percentage of vanilla stem rot. This reasearch  was carried out in-vitro with concentration of extract of 2000, 1000, 500, 250, 125, 63, and 0 ppm (w/v). The treatments were also applied on vanilla plant to determine their effect on the stem rot incidence.  The results exhibited that the higher the concentration of the extract given, both enzymes activity and mycelial protein content of Fusarium decreased. The decrease of enzymes activity resulted in the decrease of vanilla stem rot percentage. The effectiveness of the extract to suppress stem rot was higher than mancozeb, therefore, the extract could be used as a control agent against vanilla stem rot.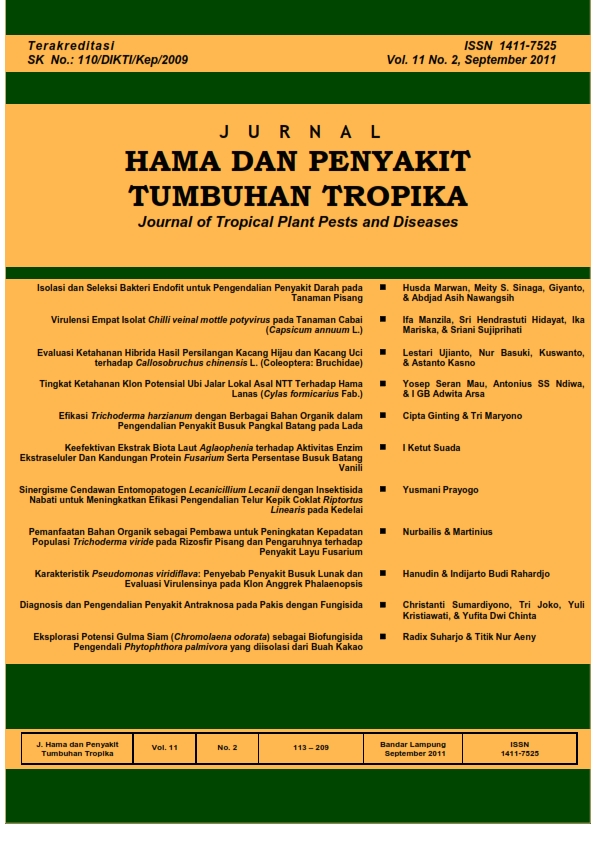 Downloads
License
Jurnal Hama dan Penyakit Tropika (JHPT Tropika) is licensed under a 
Creative Commons Attribution-NonCommercial 4.0 International License
.

Read Counter : 240 times

PDF Download : 139 times