EFIKASI TRICHODERMA HARZIANUM DENGAN BERBAGAI BAHAN ORGANIK DALAM PENGENDALIAN PENYAKIT BUSUK PANGKAL BATANG PADA LADA
Keywords:
Biological control, Phytophthora capsici, foot rot of black pepper, Trichoderma
Abstract
The objective of this research was to determine the influence of the kinds of organic matter on the efficacy of Trichoderma harzianum Rifai to control foot rot of black pepper caused by Phytophthora capsici Leonian.  Trichoderma spp. were isolated from suppressive and non-suppressive soils taken from black pepper fields with high disease incidence.  Screening of Trichoderma spp. isolates was conducted through antagonistic test with dual culture technique.  Treatments were arranged in a completely randomized design with six replications.  Treatments were rice husk, rice straw, wood dust, Arachis pintoi, mixture of the four organic matters, the mixture without T. harzianum, and without organic matter.  The test was conducted in greenhouse with media consisted of soil, organic matter, and sand (2 : 2 : 1, v/v).  After being otoclaved, the medium was infested with T. harzianum and P. capsici each with five mycelium plugs of 1-cm diameter.  Black pepper seedlings were planted 5 days after fungal infestation.  After planting the seedlings, five leaf cuts were partly inserted into the soil on each pot.  The variables observed were disease incidence on the leaf cuts inserted into the soil and disease severity on the stems and roots.  The results show that all 16 Trichoderma isolates inhibited P. capsici colonies and some isolates showed stronger inhibition than the others.  T. harzianum reduced disease severity, but there was no effect of the kinds of organic matter on the ability of T. harzianum to control foot rot.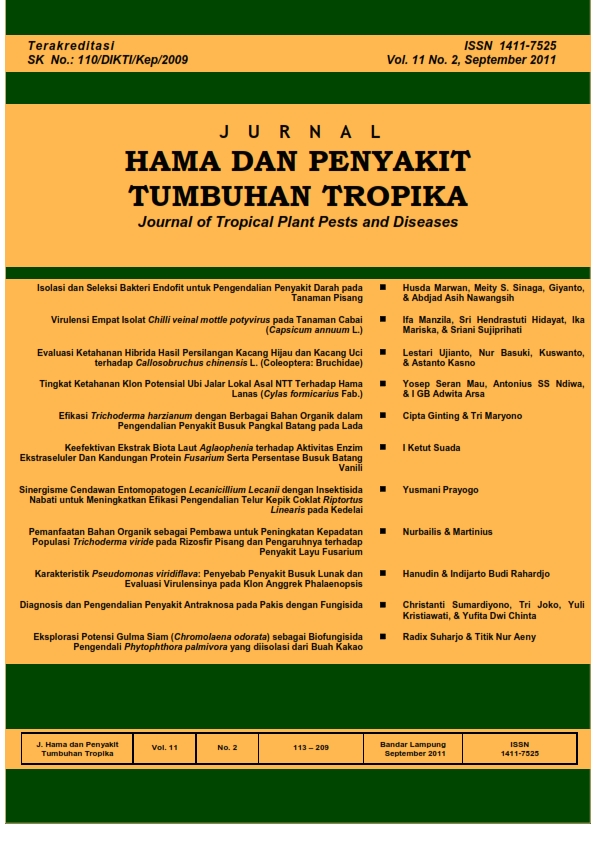 Downloads
License
Jurnal Hama dan Penyakit Tropika (JHPT Tropika) is licensed under a 
Creative Commons Attribution-NonCommercial 4.0 International License
.

Read Counter : 496 times

PDF Download : 249 times