VIRULENSI EMPAT ISOLAT CHILLI VEINAL MOTTLE POTYVIRUS PADA TANAMAN CABAI (CAPSICUM ANNUUM L.)
Keywords:
Chilli veinal mottle potyvirus, chilli pepper genotypes, virulence
Abstract
Infection of  Chilli veinal mottle potyvirus (ChiVMV) has been reported from chilli pepper growing area in Indonesia.  Field observation showed wide variation of symptom development starting from mild mottle to severe mottle and vein banding.  A research was conducted to study the difference of  isolates of ChiVMV collected from West Java (Cikabayan), Central Java (Karadenan), South Kalimantan (Nusa Indah), and West Sumatera (Tanah Datar) based on their response on 10 genotypes of chilli peppers i.e. Jatilaba, Helem, VC246, Keriting Bogor, PBC485, Titisuper, Beauty Bell, Gelora, IPBC Tanjung, and Keriting Sumatera.  Each isolates of ChiVMV was mechanically inoculated to each chilli pepper genotype, and observation was conducted every day to record incubation period, symptoms type, and disease incidence.  Cikabayan and Nusa Indah isolates were able to infect all chilli pepper genotypes with the shortest incubation period of 3 days in "Tistsuper" and "Beauty Bell" genotypes; whereas Karadenan and Tanah Datar isolates only infected 4 and 6 chilli pepper genotypes, respectively.  Although the 4 isolates of ChiVMV showed differences in their host range, but most of them developed similar symptoms ranging from mottle, vein banding, leaf cupping, and malformation. Based on the host response, ChiVMV isolates from Cikabayan and Nusa Indah were considered more virulent than the isolates from Karadenan and Tanah Datar.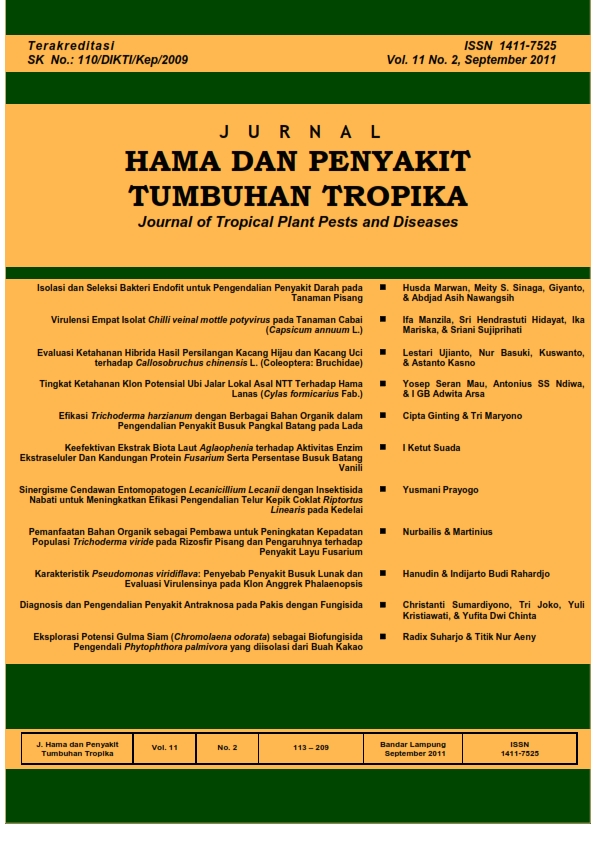 Downloads
License
Jurnal Hama dan Penyakit Tropika (JHPT Tropika) is licensed under a 
Creative Commons Attribution-NonCommercial 4.0 International License
.

Read Counter : 296 times

PDF Download : 144 times