EVALUASI KOMBINASI ISOLAT TRICHODERMA MIKOPARASIT DALAM MENGENDALIKAN PENYAKIT AKAR PUTIH PADA BIBIT KARET
Abstract
Evaluation of mycoparasitic Trichoderma isolate mixtures to control white root disease on rubber seedlings.  Eight isolates of mycoparasitic Trichoderma, as single cultures or in isolate mixtures were tested for their biocontrol efficacy against rubber seedlings inoculated with one of three strains of Rigidoporus lignosus. Biocontrol efficacy of isolates was varied, but not significantly affected by strains of R. lignosus. Mixtures of four isolates were significantly (P < 0.05) reduced the disease severity and percentage of root necrotic as compared to mixtures of two isolates as well as single isolates.  The highest disease suppression (65% relative to control) and reduction of inocula on rubber wood sticks (91% relative to control) was achieved in four isolate mixtures of Trichoderma virens (T1+T4+ T9+ T11).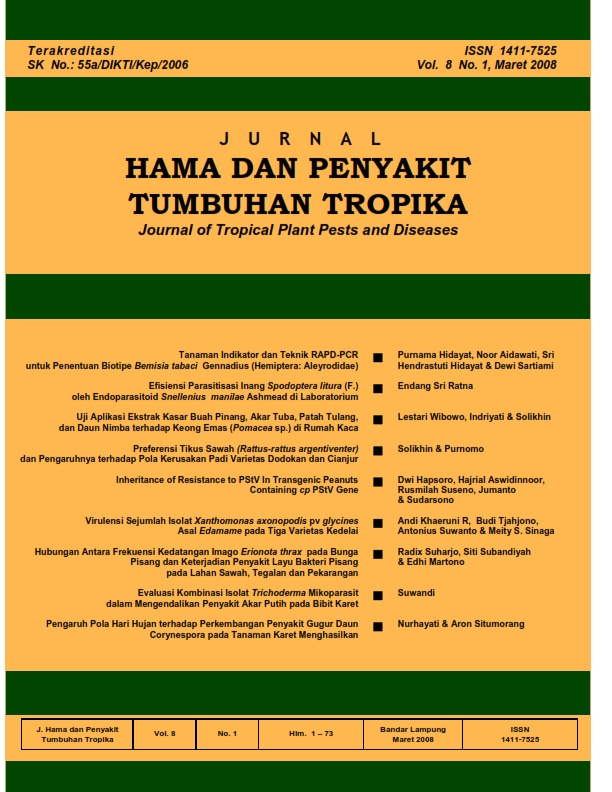 Downloads
License
Jurnal Hama dan Penyakit Tropika (JHPT Tropika) is licensed under a 
Creative Commons Attribution-NonCommercial 4.0 International License
.

Read Counter : 303 times

PDF Download : 108 times