PREFERENSI TIKUS SAWAH (RATTUS-RATTUS ARGENTIVENTER) DAN PENGARUHNYA TERHADAP POLA KERUSAKAN PADI VARIETAS DODOKAN DAN CIANJUR
Keywords:
Rattus-rattus argentiventer, preference, dodokan, damage pattern
Abstract
Paddyfield Rat (Rattus-rattus argentiventer) Preference and Its Impact on The Damage Pattern of Dodokan and Cianjur Rice Cultivar.  A field experiment was conducted during the dry season of 2006 in Central Lampung to evaluate the preference of  paddyfield rat (Rattus-rattus argentiventer) to Dodokan and Cianjur rice cultivars in the rice field and its impact on the damage pattern caused by the rat's attack. The experiment of  six treatments and 3 replications were arranged in a randomized completely block design.  Each treatment consisted of two rice cultivars i.e. Cisadane and Dodokan.  Dodokan cultivar was planted in centre of each experimental unit, surrounded by Cianjur, forming six different patterns (formations) as treatment. All experimental units then were exposed to natural paddyfield rat population.  Weekly observations on both cultivars were made to record the damage caused by the rat from 30 to 84 day after transplanting.   Aerial view of all treatments  were also taken at 84 days after transplanting (a week prior to harvest). The result showed that the paddyfield rat significantly prefered Dodokan rice cultivar to  Cianjur.  Eventually, the preference of the rat influenced the damage pattern of Dodokan rice cultivar, showed by some unique aerial views of the plot.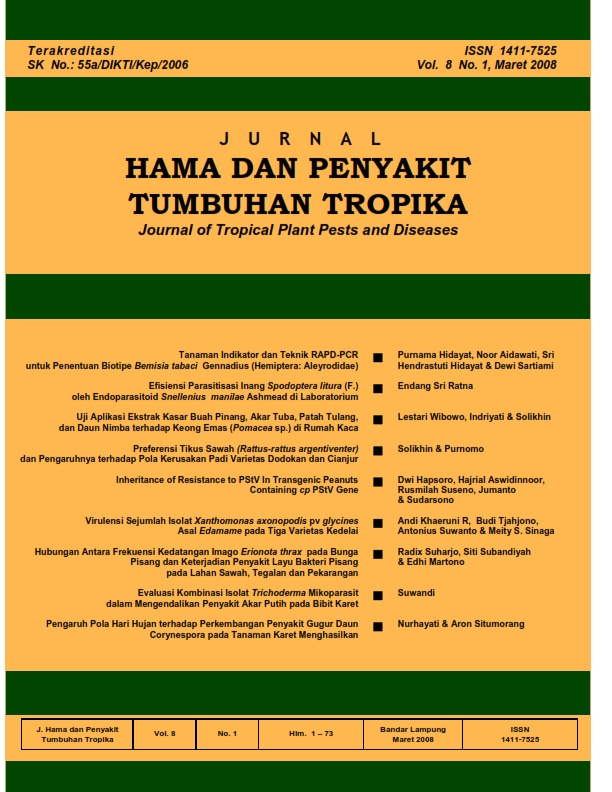 Downloads
License
Jurnal Hama dan Penyakit Tropika (JHPT Tropika) is licensed under a 
Creative Commons Attribution-NonCommercial 4.0 International License
.

Read Counter : 404 times

PDF Download : 101 times