UJI APLIKASI EKSTRAK KASAR BUAH PINANG, AKAR TUBA, PATAH TULANG, DAN DAUN NIMBA TERHADAP KEONG EMAS (POMACEA SP.) DI RUMAH KACA
Keywords:
golden apple snail, botanical crude extract, mortality
Abstract
Application test of crude extracts of pinang  fruit, tuba root, patah tulang, and neem leaf  on golden apple snail (Pomacea sp.) in green house.  This research was conducted to evaluate the effect of four botanical crude extracts namely Areca catechu, Derris eliptica, Euphorbia tirucalli and Azadirachta indica on golden apple snails under green house condition.  All experiment units were arranged in randomized completely design consisting of some levels of concentration (titer). The result showed that low concentration of the crude extract of A. catechu fruit (0,5 g/l) and crude extracts of D. elliptica root (1 g/l)  were very toxic, indicated by all snails tested were died. Mortality of snails tested caused by crude extract of  A. indica was 100% at the concentration of  4 g/l, meanwhile crude extract of  E. tirucalli was only 84% at a higher concentration of crude extract (8 g/l) occurring 96 hours after application.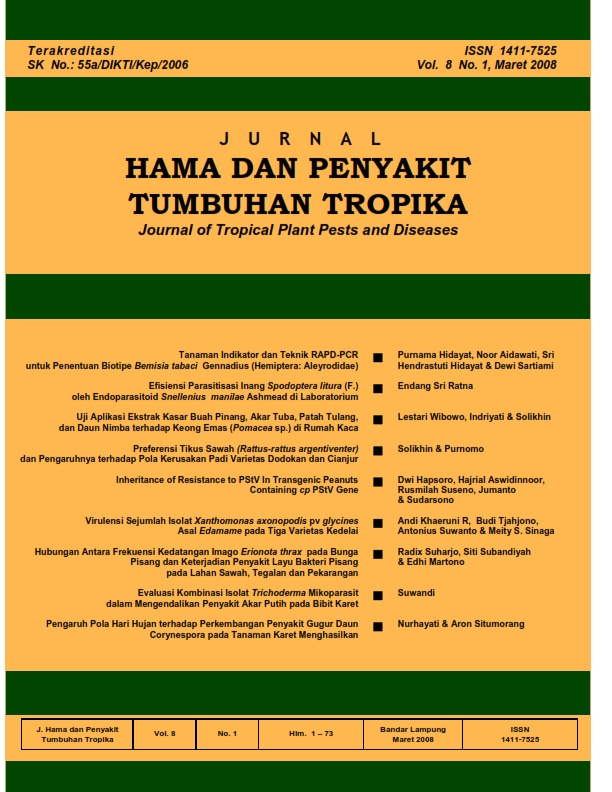 Downloads
License
Jurnal Hama dan Penyakit Tropika (JHPT Tropika) is licensed under a 
Creative Commons Attribution-NonCommercial 4.0 International License
.

Read Counter : 286 times

PDF Download : 114 times