TANAMAN INDIKATOR DAN TEKNIK RAPD-PCR UNTUK PENENTUAN BIOTIPE BEMISIA TABACI GENNADIUS (HEMIPTERA: ALEYRODIDAE)
Keywords:
Begomovirus, biotipe, RAPD-PCR, Bemisia tabaci
Abstract
Indicator Plant and PCR-RAPD for Biotype Determination of Bemisia tabaci Gennadius (Hemiptera: Aleyrodidae).B. tabaci has been known world wide as a major pest and virus vector of horticulture. In Indonesia the presence of B.tabaci was reported since 1980 and its role as virus vector in tomato and chilli pepper has becoming more importantrecently. Genetic diversity of B. tabaci has been well recognized, but very little information available for diversity of B.tabaci in Indonesia. This research was conducted in Bogor, West Java from May 2004 to June 2005. The aim of thisresearch was to initiate basic information regarding genetic diversity of B. tabaci in Indonesia, particularly in Java Island.Whiteflies population collected from different crops, i.e. tomato, broccoli, chill pepper, eggplant, cucumber, soybean, andedamame, was evaluated using silverleaf-induction test, and RAPD-PCR. It was evidenced that only B. tabaci populationfrom broccoli was able to induce silverleaf. Two genetic types of B. tabaci, i.e. biotype B and non B, were identified basedon polymorphism character of DNA. Population from broccoli was belong to biotype B, whereas other populations fromtomato, chill pepper, eggplant, cucumber, soybean, and edamame were belong to biotype non B.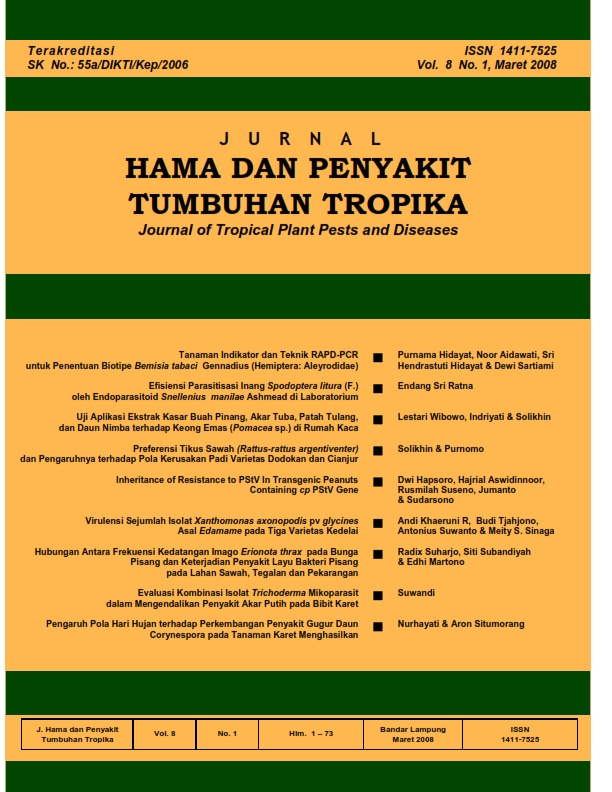 Downloads
License
Jurnal Hama dan Penyakit Tropika (JHPT Tropika) is licensed under a 
Creative Commons Attribution-NonCommercial 4.0 International License
.

Read Counter : 218 times

PDF Download : 330 times