efektiVitas PSEUDOMONAS FLUORESCENS terhadap penyakit layu bakteri (RALSTONIA SOLANACEARUM) pada tanaman kacang tanah
Keywords:
Pseudomonas fluorescens, Ralstonia solanacearum, groundnut wilt
Abstract

Effectiveness of Pseudomonas fluorescens against groundnut bacterial wilt (Ralstonia solanacearum). The experiment was conducted to study effectiveness of Pseudomonas fluorescens (PF) soil drenching application against groundnut bacterial wilt disease (Ralstonia solanacearum) suppression. Results showed that PF applications gave significant effect to reduce wilt incidence. The lowest wilt incidence (7.17%) was obtained by three times periodically soil drenching of the growing plant (1 day before planting, 15 days after planting and 30 days after planting) with PF (107 cfu/ml) suspensions. PF applications showed no significant effect on plant height which ranging from 13,07 cm - 15,60 cm.  In addition, PF applications showed wet  root and pod weight ranging from  0,35 g – 0,83 g and  7,13 g – 9,13 g, respectively which significantly different compared with untreated PF application.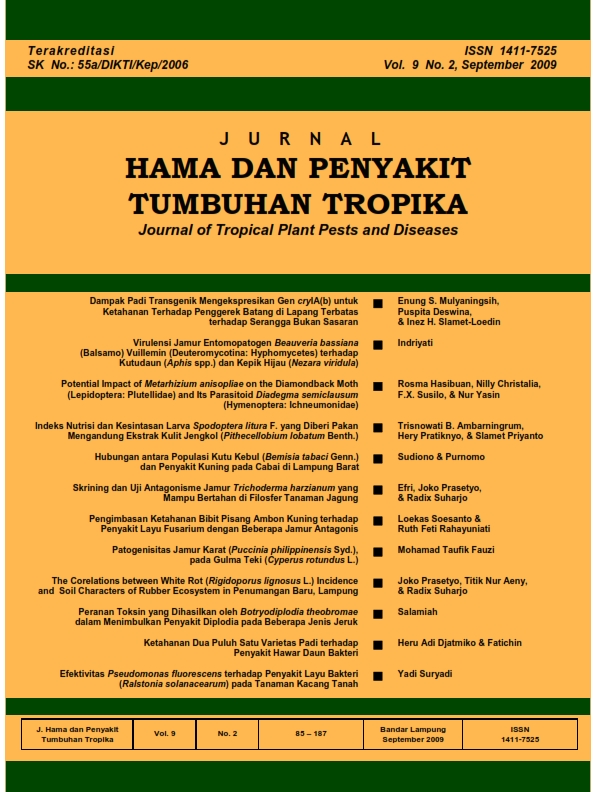 Downloads
License
Jurnal Hama dan Penyakit Tropika (JHPT Tropika) is licensed under a 
Creative Commons Attribution-NonCommercial 4.0 International License
.

Read Counter : 1267 times

PDF Download : 1214 times