KETAHANAN DUA PULUH SATU VARIETAS PADI TERHADAP PENYAKIT HAWAR DAUN BAKTERI
Keywords:
Bacterial leaf blight, resistance, Xanthomonas oryzae pv. oryzae
Abstract
Resistance of twentyone rice varieties to Bacterial Leaf Blight.  Bacterial leaf blight is one of the most important diseases of rice plants.  Resistant Variety is one of safe, effective, and environment friendly alternative controls to suppress the bacterial leaf blight on rice.  The objectives of this research were to find the most resistant varieties against bacterial leaf blight, and to study the yield of inoculated rice varieties. The research was carried out experimentally. This experiment was arranged in Randomized completely block design with 22 treatments and three replicates. Varieties of IR64 as control for susceptible varieties. Observed Variables were incubation period, disease intensity, seed weight per panicle, and seed weight per hills.  The result of this research showed that variety IR 70 was the most resistant variety to bacterial leaf blight. Variety having highest yield was Rojolele with seed weight per hill was 31.17 g.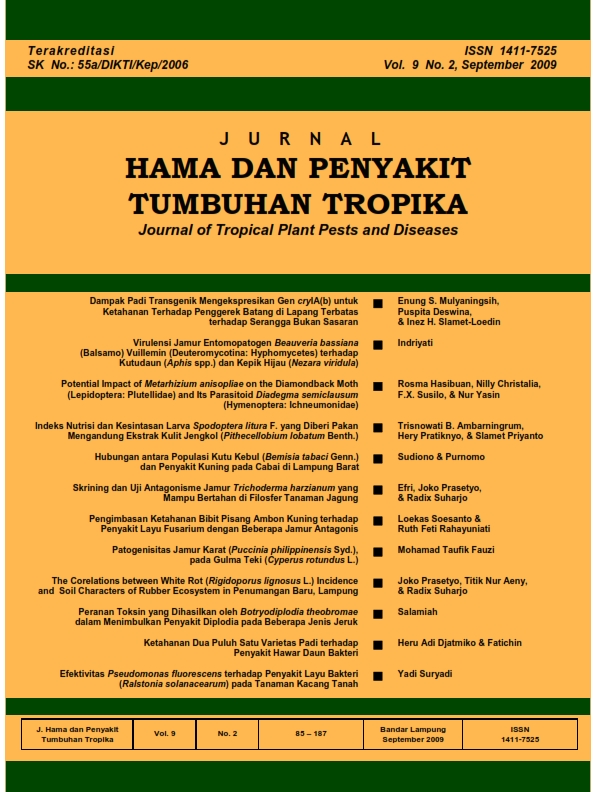 Downloads
License
Jurnal Hama dan Penyakit Tropika (JHPT Tropika) is licensed under a 
Creative Commons Attribution-NonCommercial 4.0 International License
.

Read Counter : 370 times

PDF Download : 408 times