PERANAN TOKSIN YANG DIHASILKAN OLEH BOTRYODIPLODIA THEOBROMAE DALAM MENIMBULKAN PENYAKIT DIPLODIA PADA BEBERAPA JENIS JERUK
Keywords:
Siam Banjar Citrus, Toxin, diplodia diseases, Botryodiplodia theobromae
Abstract
Role of toxin produced by Botryodiplodia theobromae causes Diplodia Bark Diseases on some citrus.  The purpose of the research was to study the role of toxin produced by Botryodiplodia theobromae causes diplodia bark diseases on some citrus. Research was conducted from March through November 2007.  The experiment was done at the laboratory and at a glass house of the Department of Plant Pests and Diseases of the Faculty of Agriculture and the laboratory of the Faculty of Science and Mathematics Lambung Mangkurat University in Banjarbaru.  For a leaf-necrosis bioassay of crude toxin production, the surfaces of the leaves were scratched near the center with a needle, and culture filtrate samples (50 µl) were placed on each wounded site.  Treated leaves were incubated in a moist chamber with light at 26oC for 4 days, and toxin activity was determined by induction of veinal necrosis on the seven susceptible cultivar of citrus.  The results of the experiment showed that the B. theobromae pathogens produced the toxin. The crude toxin was bioassayed for leaf necrosis to determine their ability to produce toxin.  Culture filtrates of the isolate were highly toxic only on five susceptible citrus leaves siam Banjar citrus, sweet orange, lime, kaffir lime, and sour lime,  indicating that the B. theobromae can produced toxin.  Pathogenicity and toxin production of B. theobromae did not differ among different cultivar.  While, no necrotic symptom produces on the pummelo and sunkist.  Toxin production of B. theobromae  produced during spore germination.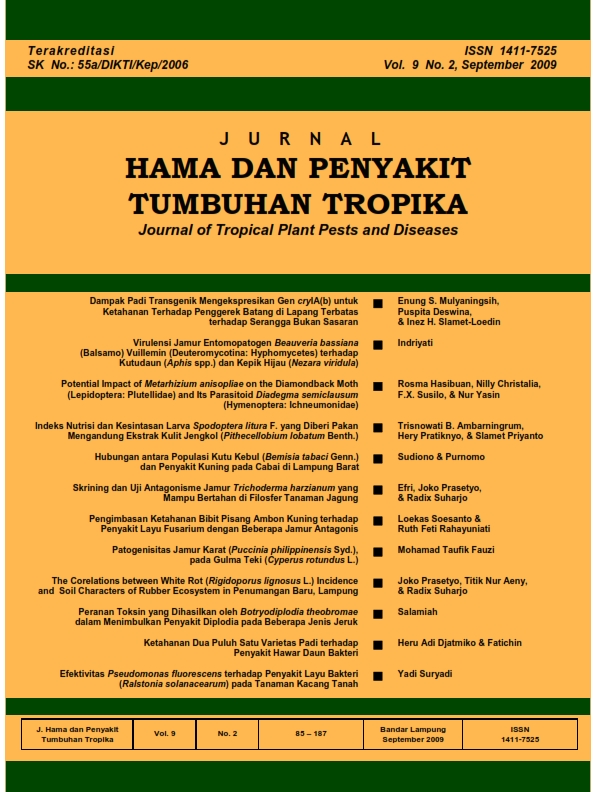 Downloads
License
Jurnal Hama dan Penyakit Tropika (JHPT Tropika) is licensed under a 
Creative Commons Attribution-NonCommercial 4.0 International License
.

Read Counter : 139 times

PDF Download : 304 times