PENGIMBASAN KETAHANAN BIBIT PISANG AMBON KUNING TERHADAP PENYAKIT LAYU FUSARIUM DENGAN BEBERAPA JAMUR ANTAGONIS
Keywords:
Induced resistance, supernatant, antagonistic fungi, Ambon Kuning cultivar banana seedling
Abstract
Induced resistance of Ambon Kuning cultivar banana seedling to fusarium wilt with antagonistic fungi.  A research aiming at knowing the effect of antagonistic fungi supernatant on banana induced resistance, Fusarium wilt development, and banana growth was carried out from July up to December 2008. Randomized Block Design was used with four replicates. Treatments tested were control, with supernatant of Gliocladium virens, Trichoderma harzianum isolated from banana, ginger, and ginseng, Trichoderma koningii, and Fusarium equiseti, applied by injection to banana seedling corm and soaked for five minutes. Variables observed were incubation period, disease severity, Foc population density, germination inhibition, growth component, phenolic compound content, and supporting component. Result of the research indicated that the supernatant of G. virens, T. harzianum, and T. koningii could significantly induce resistance of the seedling showed by increasing the phenolic content such as glycoside, saponin, and tannin. The supernatant of all antagonistic fungi could effectively control the disease showed by lengthening incubation period as 48.71%, decreasing the disease severity as 53.57%, decreasing infection rate as 61.48%, increasing the antagonistic effectivity as 51.26%, decreasing the late population density as 45.35%, and decreasing the inoculum inside the plant as 60-100%. The extract could improve the seedling growth.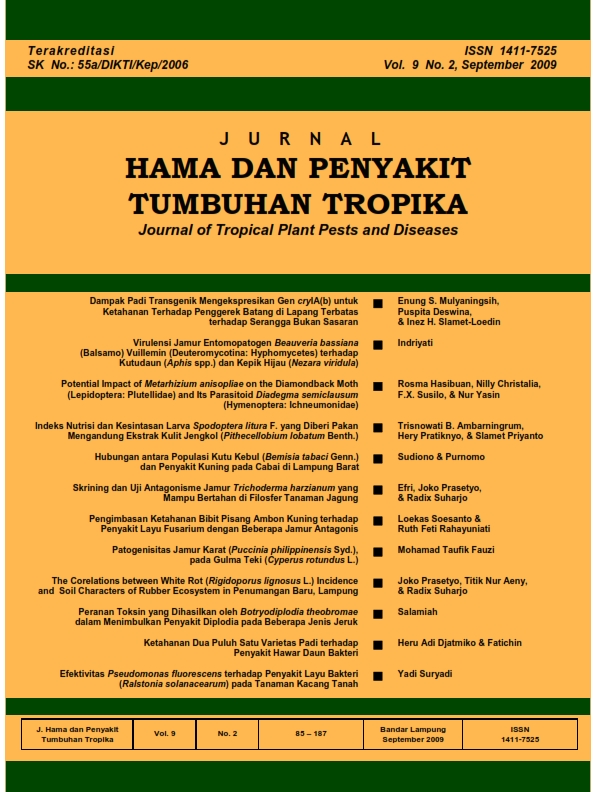 Downloads
License
Jurnal Hama dan Penyakit Tropika (JHPT Tropika) is licensed under a 
Creative Commons Attribution-NonCommercial 4.0 International License
.

Read Counter : 1804 times

PDF Download : 1846 times