PENGGUNAAN PREDATOR UNTUK MENGENDALIKAN KUTU KEBUL (BEMISIA TABACI), VEKTOR PENYAKIT KUNING PADA CABAI DI KABUPATEN TANGGAMUS
Keywords:
Bemisia tabaci, yellow disease, chili, predator
Abstract
Application of predators to control  whitefly (Bemisia tabaci), an insect vector of yellow diseases of chili in Tanggamus district on dry and rainy season.  The yellow disease is one of the important diseases in chili which is transmitted by whitefly.  Utilization of natural enemy such as predators is one of some methods in controlling whitefly.  This study was conducted in Gisting, Tanggamus District, Lampung province from June 2009 to January 2010.  The objective of this research was to determine effectiveness of controlling whitefly by its predators: Menochilus sp., Micraspis sp., and Paederus sp.  The results showed that Menochilus, Micraspis, and Paederus could effectively decrease the population of whitefly.  The three predators were more effective in rainy than in dry season.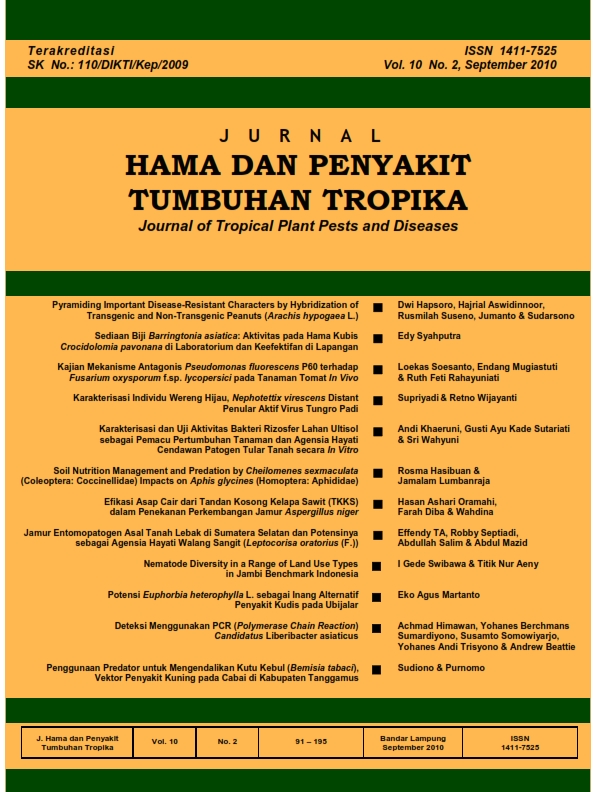 Downloads
License
Jurnal Hama dan Penyakit Tropika (JHPT Tropika) is licensed under a 
Creative Commons Attribution-NonCommercial 4.0 International License
.

Read Counter : 798 times

PDF Download : 173 times