DETEKSI MENGGUNAKAN PCR (POLYMERASE CHAIN REACTION) CANDIDATUS LIBERIBACTER ASIATICUS, PENYEBAB HUANGLONGBING PADA JERUK SIEM DENGAN BEBERAPA TIPE GEJALA PADA DAUN
Keywords:
Huanglongbing (HLB), Siem mandarin, Candidatus Liberibacter asiaticus, PCR
Abstract

Detection using PCR (Polymerase Chain Reaction) Candidatus Liberibacter asiaticus, Huanglongbing causal Organism on Siem Mandarin with different types of symptoms.  Huanglongbing (HLB) or Citrus Vein Phloem Degeration (CVPD) is one of major diseases on Siem mandarin in Indonesia. HLB is caused by bacteria Candidatus liberibacter asiatus (LAS). The bacteria only live in the phloem cells of host tree and only recently it was reported to be successfully cultured on agar medium. Early detection method of LAS is needed to support healthy Siem mandarin cultivation program. This research was conducted to detect LAS in different types of HLB leaf symptoms based on Polymerase Chain Reaction (PCR) method with specific primer forward MHO 353 and reverse MHO 354.  The results suggested that 8 types of HLB leaf symptoms were found on the samples used in this experiment. LAS was detected at 60% on the leaves without any symptom followed by the leaves with completely chlorosis symptom at 66%. The leaves with unevenly yellow showing higher percentage of LAS detection ranged from 80-86%. PCR technique successfully amplified DNA of LAS with the size target of 600 bp.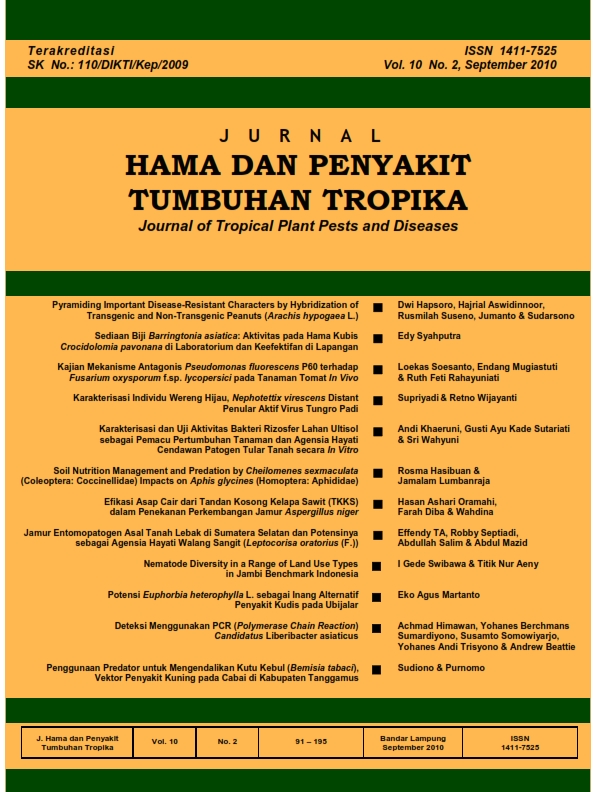 Downloads
License
Jurnal Hama dan Penyakit Tropika (JHPT Tropika) is licensed under a 
Creative Commons Attribution-NonCommercial 4.0 International License
.

Read Counter : 261 times

PDF Download : 1036 times