NEMATODE DIVERSITY IN A RANGE OF LAND USE TYPES IN JAMBI BENCHMARK INDONESIA
Keywords:
nematode abundance, nematode diversity, land use types, functional groups, Jambi
Abstract
Nematode Diversity in a Range of Land Use Types in Jambi Benchmark Indonesia. This study was conducted in Jambi  Benchmark, Indonesia from May 2004 to March 2005.  Out of 70 sampling points, 35 soil cores were taken from five land use types including forest less intensive, forest intensive, shrub, tree-based intensive, and crop-based less intensive.  From each soil core, 300 ml of soil was extracted by flotation and centrifugation technique using sucrose solution. One hundred randomly picked nematodes from each sample were identified to  genus level. The collected data were nematode abundance, number of genera, and trophic groups. The results showed that a total of 100 nematode genera within 31 families and 8 orders were found from soil samples of Jambi Benchmark. The abundance of total nematodes, bacterial feeding, and plant feeding nematodes were low in the intensive land use but high in less intensive land uses, i.e. shrub, intensive forest, and less intensive forest.  There was no significant correlation between land use intensity and the diversity of nematode taxa.  Nematode maturity indices were not sensitive enough to measure ecosystem disturbance caused by human intervention in Jambi Benchmark.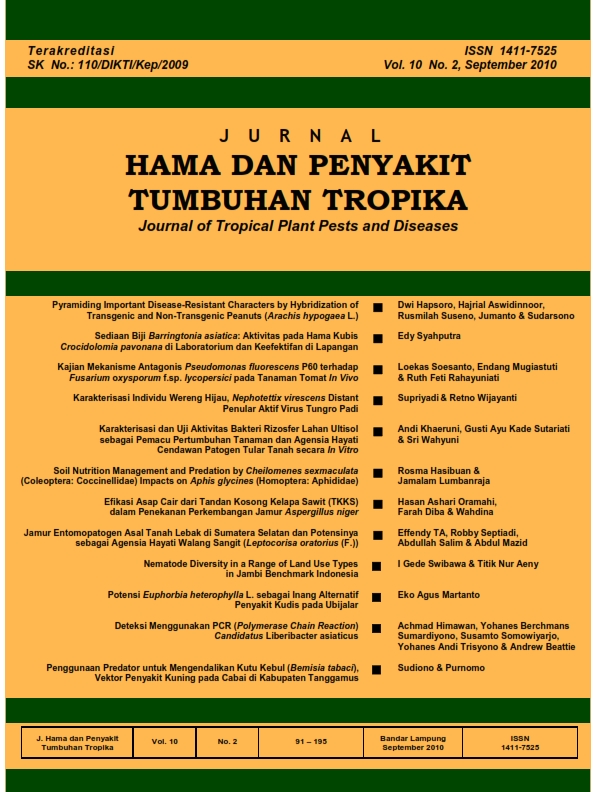 Downloads
License
Jurnal Hama dan Penyakit Tropika (JHPT Tropika) is licensed under a 
Creative Commons Attribution-NonCommercial 4.0 International License
.

Read Counter : 137 times

PDF Download : 45 times