EFIKASI ASAP CAIR DARI TANDAN KOSONG KELAPA SAWIT (TKKS) DALAM PENEKANAN PERKEMBANGAN JAMUR ASPERGILLUS NIGER
Keywords:
efficacy, Aspergillus niger, liquid smoke, oilpalm empty fruit bunch, antifungal
Abstract
The efficacy of liquid smoke from oilpalm empty fruit bunch in suppressing the development of fungus. Fungi that have been grown on maize seed were Aspergillus niger, A. flavus and Aspergillus sp. From those species, A. niger is important species because of its toxigenic characteristic on agricultural product. The objective of this research was to evaluate the efficacy of oilpalm empty fruit bunch liquid smoke in suppressing the development of the fungus. This research was conducted in several steps i.e. pyrolisis of liquid smoke, analysis of liquid smoke content, and efficacy test of liquid smoke as antifungal. Agar media used was PDA (potato dextrose agar) and concentration of liquid smoke was 0, 1, 2, and 3% (v/v). The results indicated that the liquid smoke inhibited the fungal growth. The highest result was on liquid smoke with temperature pyrolisis of 400 and 450oC and concentration 3% with average value of 100%. The contents of organic fraction of liquid smoke, such as acid and phenol might be responsible for the difference in antifungal activities among this liquid smoke.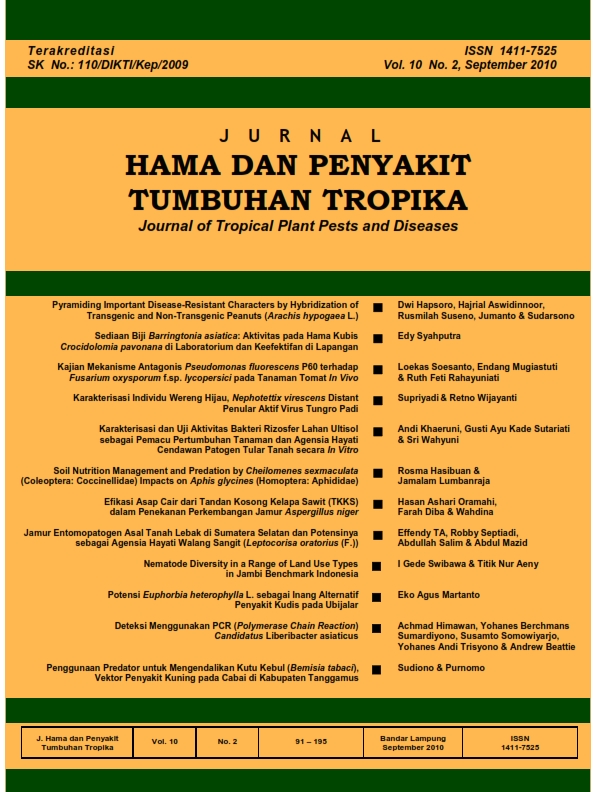 Downloads
License
Jurnal Hama dan Penyakit Tropika (JHPT Tropika) is licensed under a 
Creative Commons Attribution-NonCommercial 4.0 International License
.

Read Counter : 350 times

PDF Download : 393 times