KAJIAN MEKANISME ANTAGONIS PSEUDOMONAS FLUORESCENS P60 TERHADAP FUSARIUM OXYSPORUM F.SP. LYCOPERSICI PADA TANAMAN TOMAT IN VIVO
Keywords:
Pseudomonas fluorescens P60, Fusarium wilt, tomato, inhibition mechanisms
Abstract
Antagonistic mechanisms study of Pseudomonas fluorescens P60 on Fusarium oxysporum f.sp. lycopersici of tomato in vivo.  This research was conducted to evaluate the effect of P. fluorescens P60 in controlling Fusarium wilt on tomato and its inhibition mechanisms. Randomized Block Design was used with four replicates and each consisted of 12 crops. The treatments tested were combination between supernatant or suspension of P. fluorescens P60 and application time, i.e., 5 days before planting, in the same time with planting, and 5 days after planting. Variables observed were phenolic compound (tannin, saponin, and glycoside), disease intensity, infection rate, late pathogen and antagonist population density, crop height, stem diameter, fresh and dry weight of roots, and fresh weight of fruit. The result showed that the application of P. fluorescens P60 either in supernatant or suspension form, could increase phenolic compound in the crop tissue, decrease the Fusarium wilt intensity on tomato as 66.00-77.88%, suppress infection rate as 73.18-79.09%, decrease late F. oxysporum f.sp. lycopersici density as 35.71%, increase the antagonist as 10 fold, increase crop height as 26.50%, improve root dry weight as 55.69%, and increase fruit weight crop-1 as 59.79%. Mechanisms of the antagonist P. fluorescens P60 in order to control the disease in the field were induced resistance, antibiosis, and plant growth promoting rhizobacteria.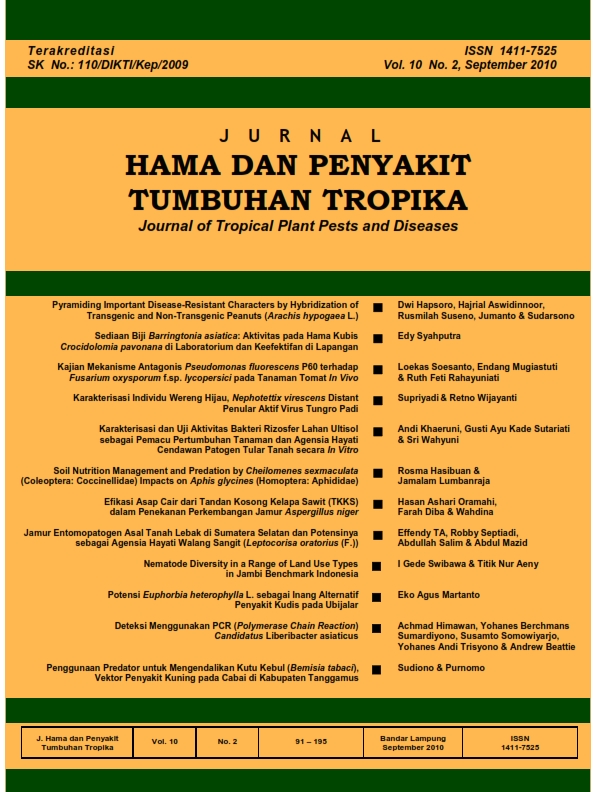 Downloads
License
Jurnal Hama dan Penyakit Tropika (JHPT Tropika) is licensed under a 
Creative Commons Attribution-NonCommercial 4.0 International License
.

Read Counter : 2386 times

PDF Download : 3335 times