SKRINING BAKTERI ANTAGONIS RALSTONIA SP., PENYEBAB PENYAKIT LAYU BAKTERI PISANG DI LAMPUNG
Keywords:
antagonist bacteria, inhibition, Ralstonia sp, banana bacterial wilt
Abstract
Screening on Antagonistic Bacteria of Ralstonia sp., the Causal Agent of Banana Bacterial Wilt in Lampung. This study was conducted on May to October 2006. This study was aimed to screen and collect potential bacterial antagonists toward Ralstonia sp., the causal agent of banana bacterial wilt; to identify the collected potential antagonists, and to test the capability of the bacterial antagonist in vitro. A survey to collect soil samples was conducted in 5 districts in Lampung, namely Bandar Lampung, Lampung Selatan, Tanggamus, Lampung Utara, Lampung Tengah, and Lampung Timur. Identification and test of the antagonistic capability was done in the Plant Disease Laboratory, University of Lampung. Identification of the antagonist bacteria was done through several biochemical tests i.e. : gram reaction, hypersensitive reaction on tobacco, oxidative-fermentative, colony color on YDC medium, fluoresence, nitrate reduction, gelatin reduction and starch hydrolise.  The results were then compared to the guidelines of bacterial identification. Twenty one soil samples were collected from those surveyed areas to isolate antagonist bacteria, and 104 isolates were found to be antagonistic to Ralstonia sp.. Based on the biochemical tests, it was showed that 59 isolates were in the group of fluorecent pseudomonad and 45 ones were still unidentified. Out of 104 isolates found, 41 isolates have the ability to inhibit the growth of Ralstonia sp.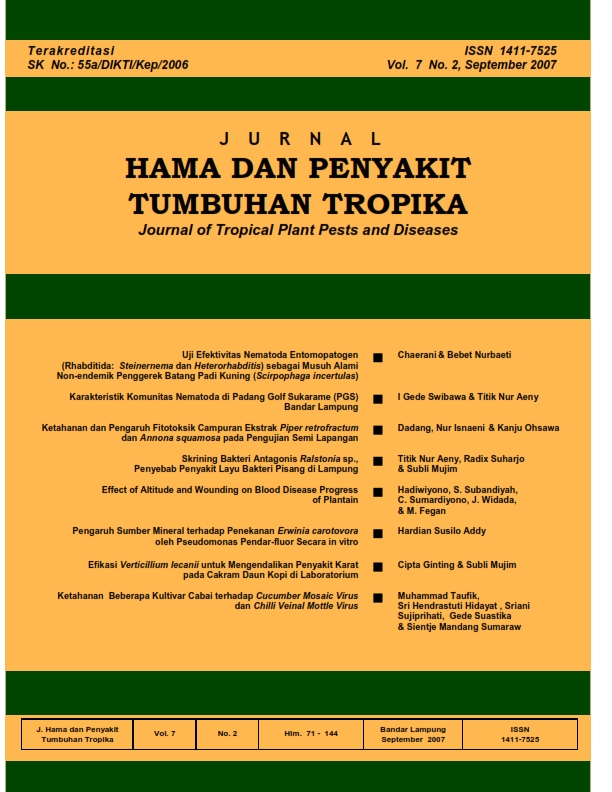 Downloads
License
Jurnal Hama dan Penyakit Tropika (JHPT Tropika) is licensed under a 
Creative Commons Attribution-NonCommercial 4.0 International License
.

Read Counter : 333 times

PDF Download : 427 times