KETAHANAN DAN PENGARUH FITOTOKSIK CAMPURAN EKSTRAK PIPER RETROFRACTUM DAN ANNONA SQUAMOSA PADA PENGUJIAN SEMI LAPANGAN
Keywords:
Annona squamosa, mortality, persistence, phytotoxic, Piper retrofractum.
Abstract
Persistence and Phytotoxic Effect of Extract Mixtures of Piper retrofractum (Piperaceae) and Annona squamosa (Annonaceae) in Semi Field Test. Novel strategy in vegetable pest control program is necessary to be conducted to reduce high rate of synthetic insecticide use.  Botanical insecticides offer one of alternatives.  Prior to be applied in the field, it has to be evaluated the extract  persistence and phytotoxic effect to crops.  So, the objective of this research was to study the persistence and phytotoxic effect of extract mixtures of Piper retrofractum (Piperaceae) and Annona squamosa (Annonaceae) in semi field test.  Extract mixtures were sprayed on broccoli plants, then at 0,1,2,3,5,7, and 10 days after exposure under sunlight, leaves of broccoli were served to Crocidolomia pavonana (Lepidoptera: Pyralidae) to evaluate the insecticidal activity.  The mortality activity of extract mixtures at 0.1% were still high until 10 days exposure.  Moreover, no phytotoxic effect was occurred on broccoli plants treated with extract mixtures as high as at 0.1% of extract mixture concentration.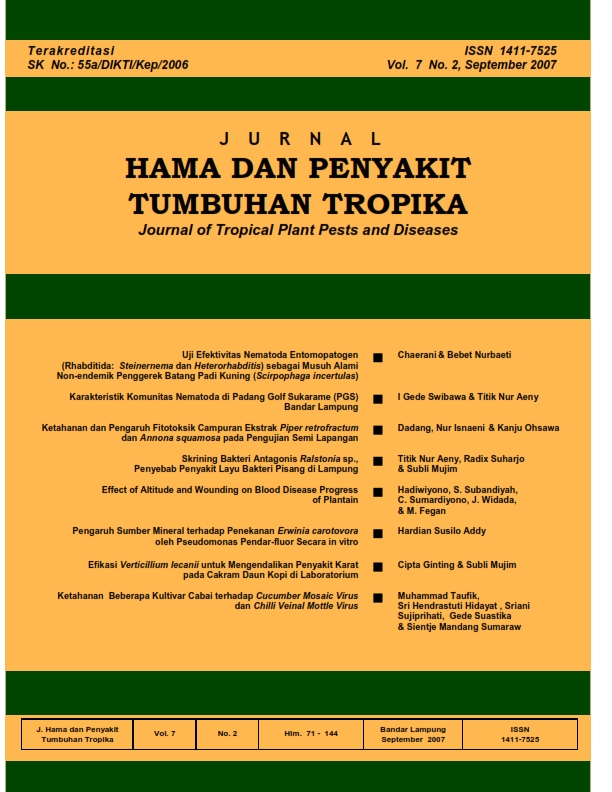 Downloads
License
Jurnal Hama dan Penyakit Tropika (JHPT Tropika) is licensed under a 
Creative Commons Attribution-NonCommercial 4.0 International License
.

Read Counter : 365 times

PDF Download : 218 times