PENYEBARAN DAN DETEKSI MOLEKULER VIRUS GEMINI PENYEBAB PENYAKIT KUNING PADA TANAMAN CABAI DI SUMATERA
Keywords:
Gemini virus, PCR
Abstract
The distribution and molecular detection of geminivirus pathogen of chilli yellowing disease in Sumatera lsland.  The objective of this research was to investigate the spread and to detect geminivirus in Sumatra Island.  The method is survey infected of plants in  Province of Lampung, South Sumatra, Bengkulu, Jambi, West Sumatra, and North Sumatra was used to detection of geminivirus from collected chilli plants by PCR (polymerase reaction chain) technique. The result showed that based on typical symptoms and molecular detection of collected sample from Lampung, South Sumatera, and North Sumatera were infected by geminivirus. The type symptoms were turning yellowing, curling, and stunting. Occurrence of disease accidents were for Province of Lampung 0 - 100%, South Sumatra 20 - 60%, Bengkulu 0 - 40%, Jambi 0 - 5%, West Sumatra 0 - 5% and North Sumatra 0 – 80%, while sample Province of Jambi and of West Sumtera were not infected by geminivirus based on symptoms and molecular detection.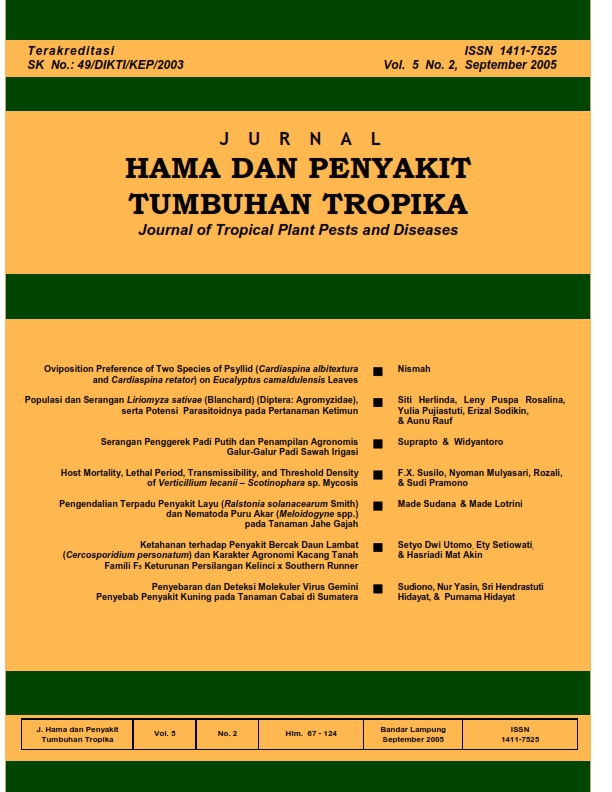 Downloads
License
Jurnal Hama dan Penyakit Tropika (JHPT Tropika) is licensed under a 
Creative Commons Attribution-NonCommercial 4.0 International License
.

Read Counter : 4150 times

PDF Download : 3943 times