KETAHANAN TERHADAP PENYAKIT BERCAK DAUN LAMBAT (CERCOSPORIDIUM PERSONATUM) DAN KARAKTER AGRONOMI KACANG TANAH FAMILI F5 KETURUNAN PERSILANGAN KELINCI x SOUTHERN RUNNER
Keywords:
Cercosporidium personatum, groundnut, late leafspot, southern runner
Abstract
The resistance to late leaf spot (Cercosporidium personatum) and agronomic characters of peanut F5 families derived from crosses between Kelinci x Southern Runner.  Late leafspot disease in peanut can be controlled by planting resistant cultivars. The objective of this study was to evaluate the resistance of nine F5 families derived from crosses between Kelinci and Southern Runner. Gajah, Kelinci, Panter, and Southern Runner were used as controls.  Experiments was arranged in a randomized complete block design with three replications. The resistance was evaluated based on the score of disease severity. The results indicated that F5 families of K/SR-2 and K/SR-9 were more resistant to late leafspot and yielded higher than Gajah, Panter, and Kelinci.  Families K/SR-7 and K/SR-8 were tolerant to late leafspot.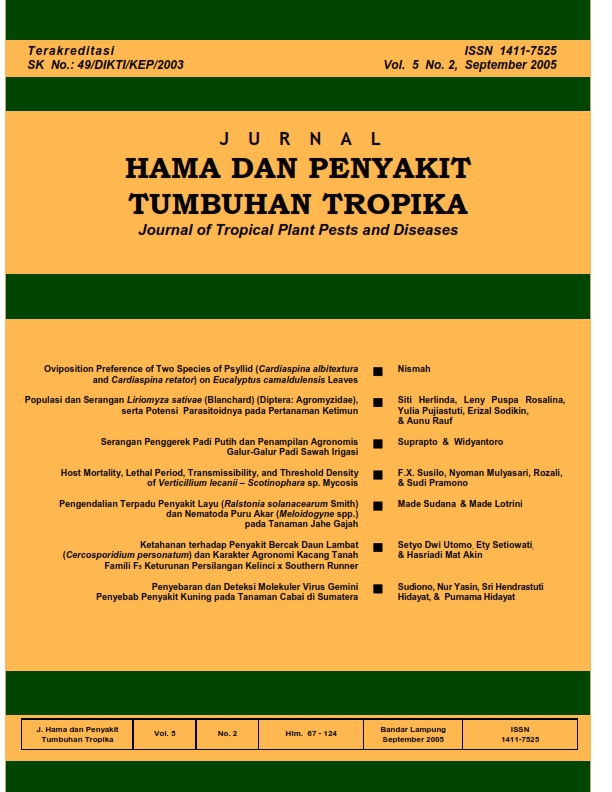 Downloads
License
Jurnal Hama dan Penyakit Tropika (JHPT Tropika) is licensed under a 
Creative Commons Attribution-NonCommercial 4.0 International License
.

Read Counter : 255 times

PDF Download : 171 times