PENGENDALIAN TERPADU PENYAKIT LAYU (RALSTONIA SOLANACEARUM Smith) DAN NEMATODA PURU AKAR (MELOIDOGYNE SPP.) PADA TANAMAN JAHE GAJAH
Keywords:
ginger wilt disease, Ralstonia solanacearum, root knot nematode, Meloidogyne spp., integrated control
Abstract
Integrated control of  ginger wilt disease  (Ralstonia solanacearum Smith) and root knot nematodes (Meloidogyne spp.). The purpose of this research was to obtain  reasonable integrated control ginger wilt disease. The research was conducted in endemic area of ginger wilt disease at Biaung village, Penebel Regency during April, 2003 to Januari, 2004. Randomized block design (RAK) with three replication and 11 treatments was used in this experiment. Research result appears that ginger wilt diseases can be controlled by integrated control using seed treatment with soaked method in urea-polymer + Bacillus sp. (2g/l water for two hours and then for planting treatment with vermi-compost (150g/plant) + fire-wood ash (50g/plant) + Mycorrhiza (100 g/plant). Root knot nematode (Meloidogyne spp.) was effective controlled by dolomit (5g/plant) + seed-treatment with bactericide (Agrimicin 500 ppm) +  vermi-compost (150 g/plant).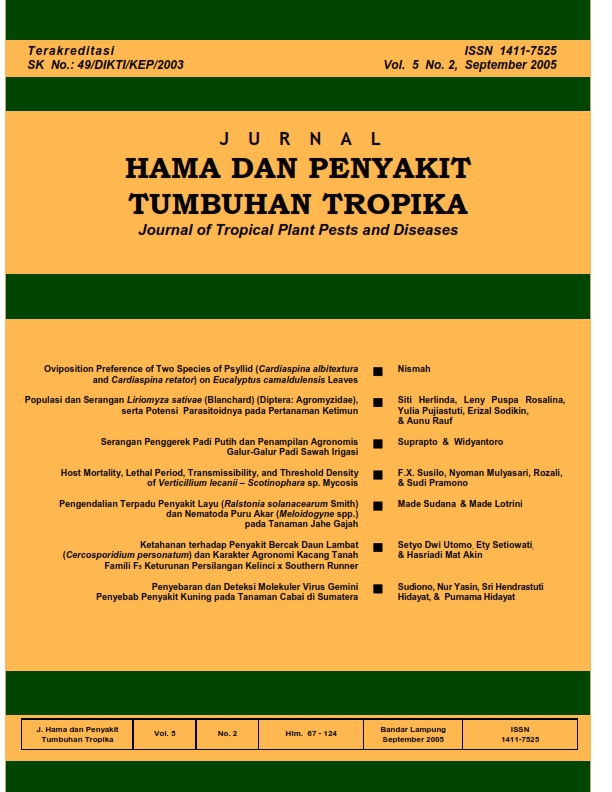 Downloads
License
Jurnal Hama dan Penyakit Tropika (JHPT Tropika) is licensed under a 
Creative Commons Attribution-NonCommercial 4.0 International License
.

Read Counter : 888 times

PDF Download : 502 times