PERKECAMBAHAN UREDOSPORA HEMILEIA VASTATRIX PADA EKSTRAK RIMPANG JAHE DAN KUNYIT SERTA DAUN CENGKEH DAN SIRIH
Keywords:
Hemileia vastatrix, coffee leaf rust, botanical fungicide
Abstract
Germination of Hemileia vastatrix uredospores on crude water extracts of zinger and turmeric rhizome and clove and Piper betle leaves.  Coffee leaf rust caused by H. vastatrix especially on Arabica coffee is one of most important diseases in coffee and conventional control methods of leaf coffee rust is still unsatisfactory.  The objective of this study was to determine the effect of crude water extract on the germination of H. vastatrix uredospores.  The study was conducted from January to September 2004 in the Laboratory of Plant Pathology at Unila.  In each test, treatments were arranged in a randomized complete block design with four replications.  Crude water extract was prepared by homogenizing 100 g of material in 100 ml sterilized distilled water.  After being passed through four layers of sterilized cheesecloth, the mixture was defined as the aliquot (100% extract) and dilutions were made with sterile distilled water to obtain concentrations of 2.5 to 10%.  Each of four materials (zinger, turmeric, clove, and Piper betle) was tested separately in five aliquot concentration levels.  One ml of each extract was mixed with 0.25 ml of uredospora suspension (4 x 105 per ml), and 0.2 ml of the mixture was incubated.  The variable was germinated uredospora (%) that was determined under a mikroscope.  The results show that significant reduction in spore germination occurred by  turmeric, clove, and P. betle extracts at > 2.5% and by zinger extract at > 5%.  Some uredospora exposed to plant extract germinated abnormally:  germ tubes shorten, swollen, or malform.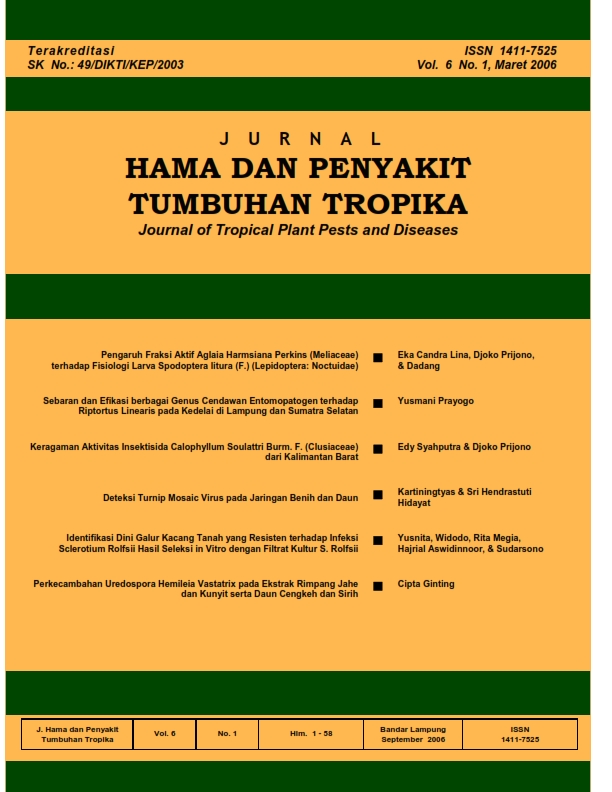 Downloads
License
Jurnal Hama dan Penyakit Tropika (JHPT Tropika) is licensed under a 
Creative Commons Attribution-NonCommercial 4.0 International License
.

Read Counter : 309 times

PDF Download : 240 times