IDENTIFIKASI DINI GALUR KACANG TANAH YANG RESISTEN TERHADAP INFEKSI SCLEROTIUM ROLFSII HASIL SELEKSI IN VITRO DENGAN FILTRAT KULTUR S. ROLFSII
Keywords:
early identification, resistant peanut lines, in vitro selection, S. rolfsii culture filtrates.
Abstract
Early Identification of Sclerotium rolfsii Resistant Lines of Peanut Derived from In Vitro Selection Using S. rolfsii Culture Filtrates. The objectives of this experiment was to evaluate methods for early identification of Sclerotium rolfsii resistant lines derived from fungal culture filtrate (CF)-insensitive somatic embryos (SE) and to correlate the results of early identification with that of direct S. rolfsii inoculation in the plastic house.  In the first method, shoots regenerated from CF-insensitive SE were planted onto selective medium containing 30% of S. rolfsii CF for one month and then responses were evaluated. In the second method, leaves and leaflets of R0 peanut lines derived from CF-insensitive SE were inoculated with S. rolfsii by detached leaf-dual culture test. The damages of the inoculated leaves and leaflets were assessed 6 days after inoculation.  A number of R1 plants were grown in the plastic house from seeds harvested from R0 peanut lines, and they were inoculated with S. rolfsii at 30 days after planting (dap). Responses of the inoculated R1 plants were observed at 44 dap. Results of the experiment indicated that shoots from CF-insensitive SE showed less damage scores (DS=1.2), when cultured on CF-containing selective medium than ones from non-selected SE (DS=2.9). Most of the detached leaves and leaflets inoculated with S. rolfsii totally necrosed. However, leaves and leaflets from 7 out of 23 R0 lines showed variegation between necrosed and healthy tissues, indicating the presence of S. rolfsii resistant tissue among the tested leaves and leaflets. Direct inoculation of R1 plants in the plastic house showed 10 out of 18 progenies derived from 6 R0 lines showed less disease severity scores (DSS=2 or 3) and they were able to survive and produce seeds. On the other hand, seed derived (original) peanut plants cv. Kelinci inoculated with S. rolfsii all showed DSS=5 and died after inoculation. The overall   results of the experiment indicated the usefullness of in vitro selection using S. rolfsii culture filtrates for regenerating S. rolfsii resistant peanut variants and the possible use of methods for early identification of desirable variants.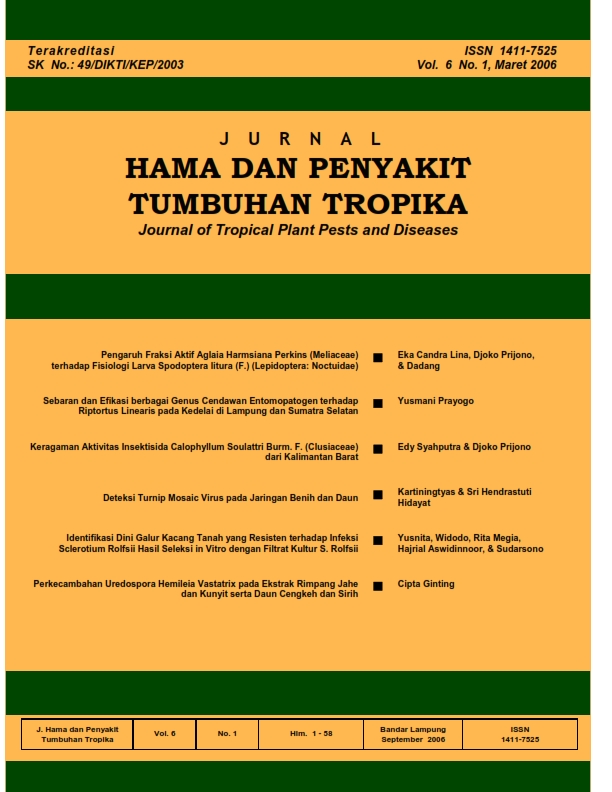 Downloads
License
Jurnal Hama dan Penyakit Tropika (JHPT Tropika) is licensed under a 
Creative Commons Attribution-NonCommercial 4.0 International License
.

Read Counter : 159 times

PDF Download : 54 times