DETEKSI TURNIP MOSAIC VIRUS PADA JARINGAN BENIH DAN DAUN
Keywords:
Brassica rapa, ELISA, RT-PCR, Turnip Mosaic Virus.
Abstract
Detection of Turnip mosaic virus in seed and leaf tissue. The study was conducted to test the seed transmission efficiency of Turnip mosaic virus (TuMV) on caisin (Brassica rapa) and the susceptibility of plant to the virus at different ages.  Two detection techniques, ELISA and RT-PCR,  were used to determine the more appropriate method for detection of TuMV. Two different sources of seeds involved those from farmer and commercial seeds were collected from West Java and Central Java.   TuMV was inoculated on test plants at 2, 4, 6, 8, and 10 weeks after transplanting.  Infected plants were confirmed using ELISA and RT-PCR techniques with specific antiserum and primer.  TuMV was detected from farmer seeds originated from Ciherang and Cinangneng with percent infection of 15% and 2% , respectively.  Plant growth and symptom development were affected by time of infection.  In general, TuMV infection caused symptoms, mosaic, malformation, vein clearing, and blister on the leaf.  The youngest plants were more susseptble and shown more severe symptoms.  Absorbent value of ELISA from infected plants was in the range of 2.1 – 2.4.  Spesific DNA band, 800 bp, was amplified from infected plants.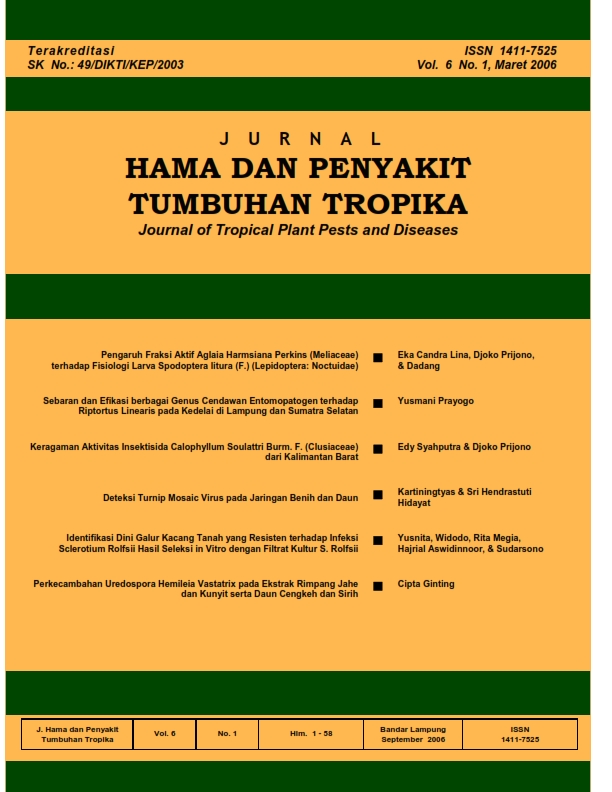 Downloads
License
Jurnal Hama dan Penyakit Tropika (JHPT Tropika) is licensed under a 
Creative Commons Attribution-NonCommercial 4.0 International License
.

Read Counter : 188 times

PDF Download : 57 times