KERAGAMAN AKTIVITAS INSEKTISIDA CALOPHYLLUM SOULATTRI BURM. F. (CLUSIACEAE) DARI KALIMANTAN BARAT
Keywords:
Calophyllum soulattri, botanical insecticide, bioactivity variation
Abstract
Diversity of insecticide activity of Calophylum soulattri Burm. F. (Clusiaceae) originate from West Kalimantan. The objective of this research was to evaluate the insecticidal activity of the bark extract of Calophyllum soulattri from West Borneo against Crocidolomia pavonana (F.) (Lepidoptera: Pyralidae) larvae.  Extraction of the bark was performed with maceration method using ethanol and continued by acetone reextraction.  High performance liquid chromatography (HPLC) with C18 column (reversed-phase) and methanol-water (1:1) as the mobile phase was used to measure the amount of active components.  Bioassays were done using leaf-residual method.  The results showed that acetone bark extract of 10 sample plants of C. soulattri possessed strong lethal effect against C. pavonana larvae.  The lethal effect of the extracts did not differ from each other and the correlation with the content of active components was not significant. The sample plant no. 12 showed the highest yield of acetone extract.  Based on both the insecticidal activity and its rendement, it is concluded that the sample plant no. 12 is promising to be used as a parent plant for mass-propagation of source plants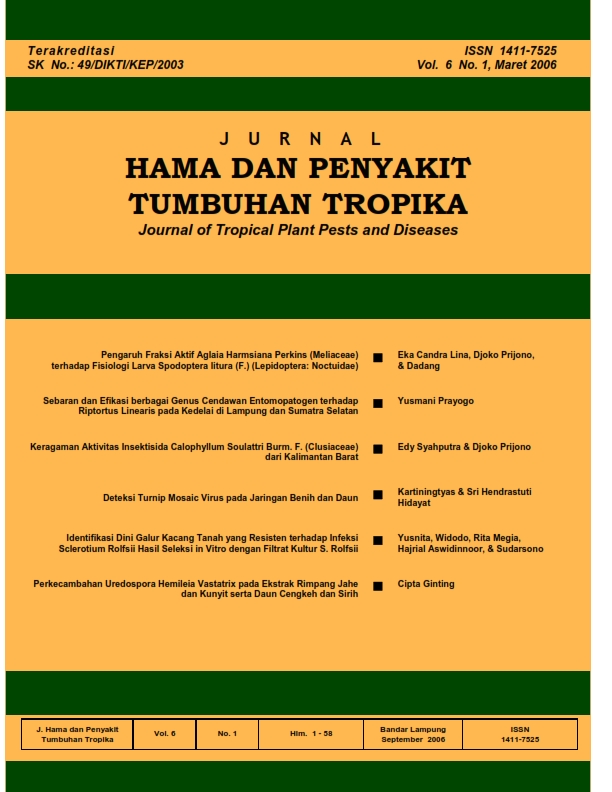 Downloads
License
Jurnal Hama dan Penyakit Tropika (JHPT Tropika) is licensed under a 
Creative Commons Attribution-NonCommercial 4.0 International License
.

Read Counter : 187 times

PDF Download : 53 times