SEBARAN DAN EFIKASI BERBAGAI GENUS CENDAWAN ENTOMOPATOGEN TERHADAP Riptortus linearis PADA KEDELAI DI LAMPUNG DAN SUMATRA SELATAN
Keywords:
distribution and efficacy, dry acid land, entomopathogenic fungi, soybean
Abstract
Distribution and efficacy on various entomopathogenic fungi at Lampung and South Sumatra as a biological control agent against Riptortus linearis. This study was conducted from June to September 2005.  The fungi were isolated from insect cadavers, insect bait, and soil sample from the soybean land. Each fungal sample was identified  base on their morphology using determination keys.  The fungal isolates were inoculated to the pod sucking bug Riptortus linearis.  The results showed that there were six genera of entomopathogenic fungi that can be isolated, i.e.  Fusarium sp., Penicillium sp., Metarhizium sp., Verticillium sp., Paecilomyces sp., and  Beauveria sp.  The fungus-induced  mortality of R. linearis varied between 5 - 30%.  Paecilomyces sp. isolated from Lebak Batang Baru induced 25%; Beauveria sp. isolated from Pulung Kencana 25%; Verticillium sp. isolated from Kaliungu 20%. Metarhizium sp. isolated from Terbanggi Subing 20% and Verticillium sp. isolated from Lebak batang Baru 20% mortality. It was suggested that these fungi have potential as biological control agents  for the pod sucking bug in dry acid land.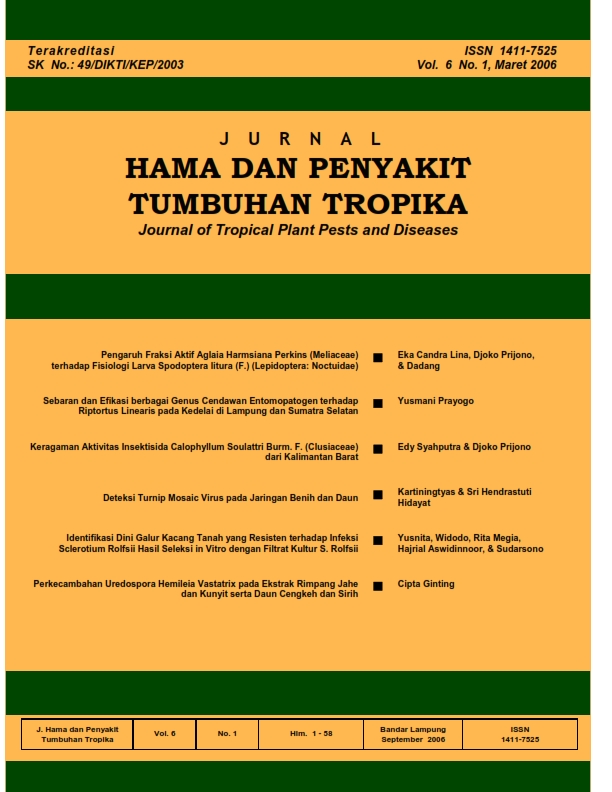 Downloads
License
Jurnal Hama dan Penyakit Tropika (JHPT Tropika) is licensed under a 
Creative Commons Attribution-NonCommercial 4.0 International License
.

Read Counter : 453 times

PDF Download : 326 times