KERAGAMAN SERANGGA PADA TANAMAN CABAI (CAPSICUM ANNUUM) YANG DIBERI PESTISIDA SINTETIS VERSUS BIOPESTISIDA RACUN LABA-LABA (NEPHILA SP.)
Keywords:
Capsicum annuum, venom of spider Nephila sp., synthetic pesticide, insect diversity
Abstract
The objective of this research was to compare the diversity of insects in chili plant agroecosystem treated with synthetic pesticide versus that treated with biopesticide (venom of spider Nephila sp.) Two plots of chili pepper plants, each sized 600 m2, located at Ciwidey area Bandung –West Java, were taken as the sample plots. The first plot was weekly treated with profenofos insecticide (50% active ingredient, a.i.) while the second plot was treated with  biopesticide (70% a.i. spider venom extracted from Nephila sp.), each at 35 ml/17 L rate of spray solution. Sweep net was used to sample insects along two transects in each plot. Result showed that 14 families of 8 insect orders were found in pesticide-treated plot while 15 families of  9 orders were found in biopesticide-treated plot. The evenness index and diversity index of insects in plot treated with biopesticide were relatively higher than those in pesticide-treated plot. In contrast, dominance index in biopesticide plot was lower than that in synthetic pesticide plot. Thrips sp.(Thysanoptera: Thripidae) was found to be the most dominant species in both plots.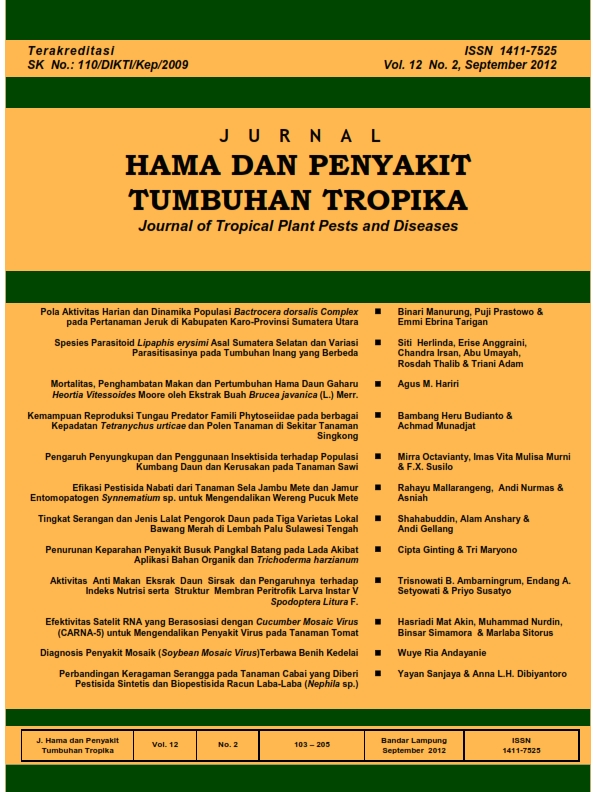 Downloads
License
Jurnal Hama dan Penyakit Tropika (JHPT Tropika) is licensed under a 
Creative Commons Attribution-NonCommercial 4.0 International License
.

Read Counter : 1178 times

PDF Download : 939 times