AKTIVITAS ANTI MAKAN EKSTRAK DAUN SIRSAK (ANNONA MURICATA L.) DAN PENGARUHNYA TERHADAP INDEKS NUTRISI SERTA TERHADAP STRUKTUR MEMBRAN PERITROFIK LARVA INSTAR V SPODOPTERA LITURA F.
Keywords:
Spodoptera litura, soursop leaf extract, antifeeding activity, nutrition indices, membrane peritrophic structure
Abstract
Antifeeding activity of soursop leaf extract    (Annona muricata L.) and its effect on nutrition indices and the microscopic structure of peritrophic membrane of the fifth-instar larvae of Spodoptera litura F. were studied.  Antifeeding test was conducted by choice method. Discs of caisin leaf were dipped into the ether fraction of soursop leaf extract with concentrations of 0; 0.63; 2.50; and 10.00%. Nutrition indices and peritrophic membrane structure were observed by giving fifth-instar larvae  one of the five diets, every group of diet was added to various concentrations of  the ether fraction of soursop leaf extract, containing either 0; 0.63; 1.25; 2.50; and 5.00%. The result showed that  soursop leaf extract had antifeeding activity at tested concentration 2.50%. Relative consumption rate (RCR), relative growth rate (RGR), and  efficiency of conversion of  ingested food  (ECI) were significantly lower in the case of treated larvae than that of the controls. However the efficiency of conversion of digested food  (ECD), approximate digestibility (AD), and peritrophic membrane structure treated with  soursop leaf extract were not significantly affected as compared to those in  controls.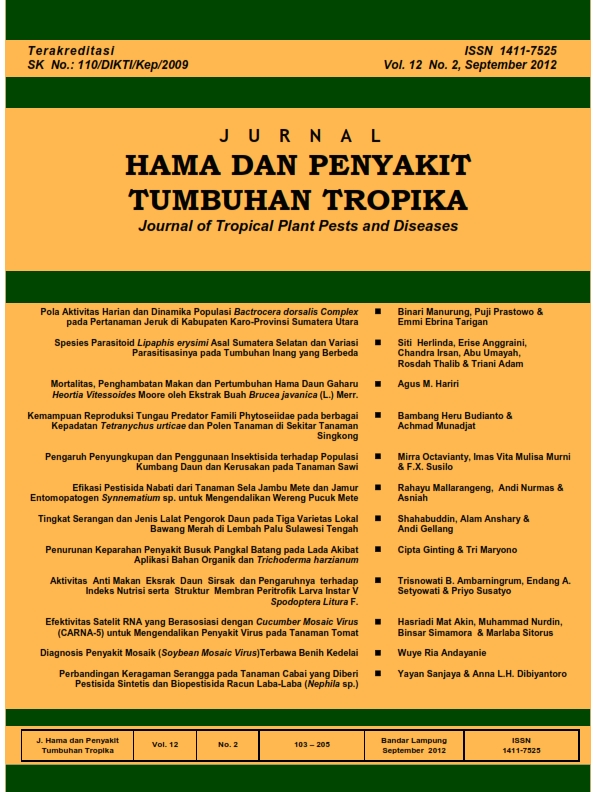 Downloads
License
Jurnal Hama dan Penyakit Tropika (JHPT Tropika) is licensed under a 
Creative Commons Attribution-NonCommercial 4.0 International License
.

Read Counter : 1042 times

PDF Download : 644 times