PENURUNAN KEPARAHAN PENYAKIT BUSUK PANGKAL BATANG PADA LADA AKIBAT APLIKASI BAHAN ORGANIK DAN TRICHODERMA HARZIANUM
Keywords:
foot rot of black pepper, Phytophthora capsici, Trichoderma, organic matter
Abstract
Foot rot of black pepper (Piper nigrum L.) caused by Phytophthora capsici Leionian is commonly considered as one of the most important problems in black pepper production. The objectives of this research was to determine the influence of organic matter and Trichoderma spp. on the severity of foot rot of black pepper. On the first experiment, five Trichoderma mycelial plugs were applied on planting medium consisting of soil, organic matter, and sand (2:2:1, v/v), then incubated for 7 days.  Black pepper plants were transferred to the planting medium and after 14 days were inoculated on the stems.  The variable observed was disease severity on the stem.  On the second test, Trichoderma that was grown on broken rice (menir) as starter was applied into the planting medium which consists of soil and sand (2:1, v/v).  Two weeks later, black pepper plants were inoculated on the leaves and stems.  The variables observed were the diameter of necrotic on the leaves and disease severity on the stem.  On the first experiment when 15 isolates of Trichoderma spp. were tested, five isolates (T. harzianum isolates 6, 8, 9, 10, and 15) significantly reduced disease severity.  However, on the second test when four out of the five effective isolates were retested, none was found to significantly reduce disease severity on leaves or stems.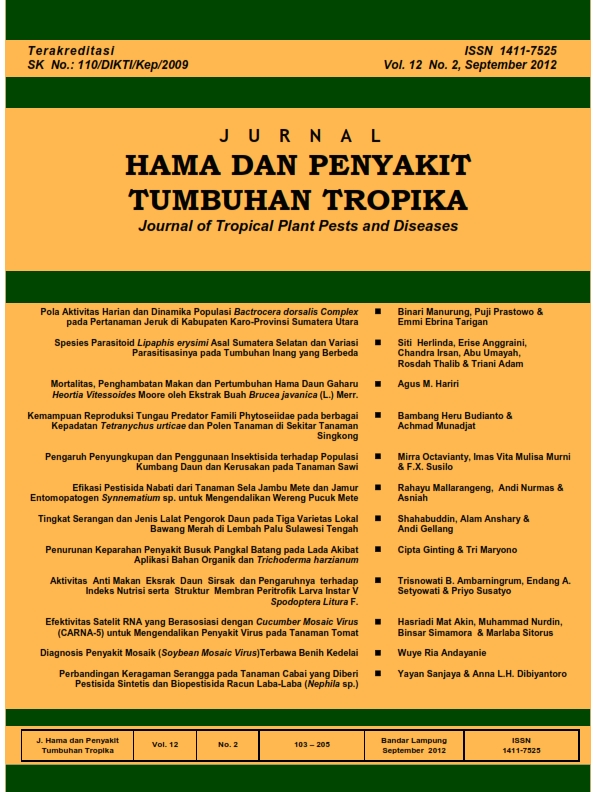 Downloads
License
Jurnal Hama dan Penyakit Tropika (JHPT Tropika) is licensed under a 
Creative Commons Attribution-NonCommercial 4.0 International License
.

Read Counter : 766 times

PDF Download : 515 times