TINGKAT SERANGAN DAN JENIS LALAT PENGOROK DAUN PADA TIGA VARIETAS LOKAL BAWANG MERAH DI LEMBAH PALU SULAWESI TENGAH
Keywords:
infestation intencity, Liriomyza sp., onion crops, identification
Abstract
Leafminer  (Liriomyza  sp.) is an exotic pest that currently has  become a new major pest at the onion crops in Palu Valley-Central Sulawesi and it may reduce the yields up to 100%. The study was aimed to  investigate the  infestation level of  leafminer on three local varieties of onion in Palu and to identify the leafminer species infested the onion crops. The  experiment was arranged in a completely randomized design with three treatments of local onion varieties (Palu, Palasa, and Tinombo) and six replicates. The onion seeds were  grown  in plot of  6 x 4 m and five plants were  randomely chosen as the samples  to observe the percentage of pest infested and the yields. The imago of leafminer from each onion variety were collected and brought to the laboratory for identification. The results showed that the averages of infestation intensity of leafminer were 48.1 % (Palu), 47.6 % (Palasa), and 65.9 % (Tinombo) while the dry weight of bulb  per 5 plant samples were 133.3 g (Palu), 120 g (Palasa), 0 g (Tinombo). The results  indicated that Palu and Palasa varieties  be more resistance to leafminer. The leafminer attacking onion crops in Palu is Liriomyza chinensis as indicated by some morphological characters observed.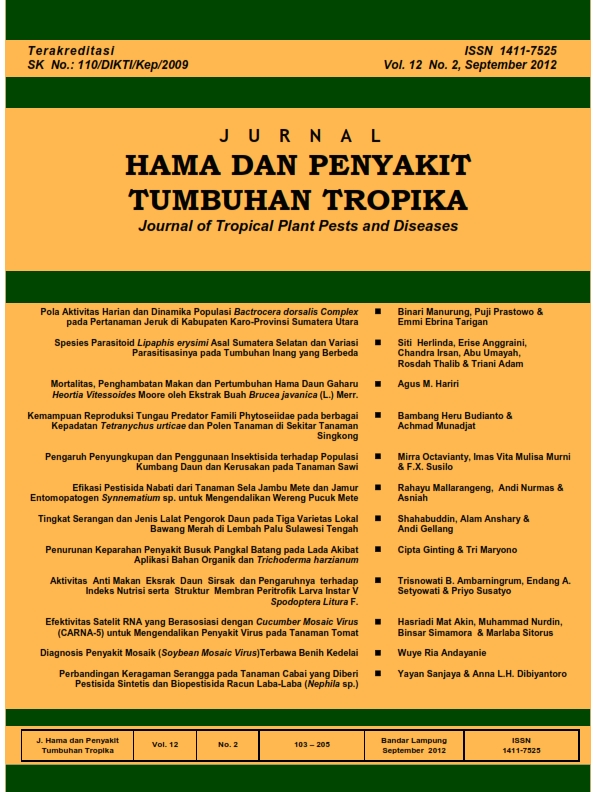 Downloads
License
Jurnal Hama dan Penyakit Tropika (JHPT Tropika) is licensed under a 
Creative Commons Attribution-NonCommercial 4.0 International License
.

Read Counter : 750 times

PDF Download : 421 times