EFIKASI PESTISIDA NABATI DARI TANAMAN SELA JAMBU METE DAN JAMUR ENTOMOPATOGEN SYNNEMATIUM SP. UNTUK MENGENDALIKAN WERENG PUCUK METE (SANURUS INDECORA)
Keywords:
cashew, Sanurus indecora, intercropping plants, Synnematium sp.
Abstract
Cashew  plant is the one of export commodity that has high economic value compared to the other commodities.  Sanurus indecora is one of major pest in cashew, causing decreased quality and quantity of products.  The aims of this experiments were to the develop integrated pest management of S. indecora, by: (a) utilization and enviroment manipulation of cashew plantation using intercropping plants to control S. indicora, (b) utilization of natural enemies, specially Synnematium sp.,  to control S. indecora. The experiment consisted of : (1) the effect of intercropping plant extracts as botanical pesticide on S. indecora mortality at laboratory, (2) the effect of medium substances on Synnematium sp. growth, as well as  the effect of concentration of Synnematium sp. suspension on S. indecora mortality at laboratory. Botanical pesticides that were used in this experiment was made from extraction of  intercropping plants: extraction of sesame seed, of cassava leaves and pineapple fruit. All experiments were arranged in complete randomized design. The results showed that  0.5 mg/10 mL water of sesame seed extract,  0.1 mg/10 mL water of cassava leaves extract and 2.0 mg/10 mL pineapple fruit extract  concentrations resulted  average 76.67%, 66.67%, and 63.33%  S. indecora mortalities at 24 hours  after application, respectively. The second experiment showed that the growth medium containing rice straw resulted the best growth of Synnematium sp. colonies than the other treatments and 0.1 g/mL  water of Synnematium sp. mycelium  resulted the high mortality (57,5%) at 5 days after application.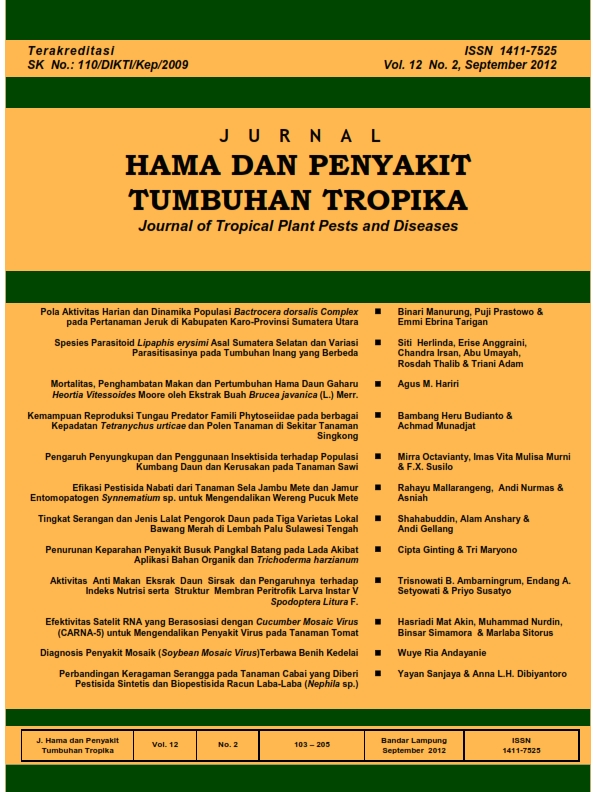 Downloads
License
Jurnal Hama dan Penyakit Tropika (JHPT Tropika) is licensed under a 
Creative Commons Attribution-NonCommercial 4.0 International License
.

Read Counter : 359 times

PDF Download : 230 times